Bhutan's Joy factor
By AMY NG, The Star, January 9, 2009
Bhutan's wealth and prosperity is driven by a policy that focuses on the pursuit of happiness
Kuala Lumpur, Malaysia -- I was unprepared to meet His Holiness Gyalwang Drukpa – one of the most distinguished spiritual masters living today, as well as Her Royal Highness Pema Lhadon Wangchuck, the sister of the reigning King of Bhutan, His Majesty Jigma Singye Wangchuck.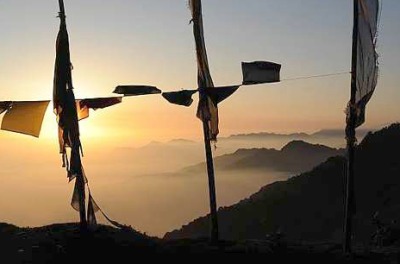 << Vision of tranquillity: Bhutan has been pursuing Gross National Happiness for the past few decades.
Never having met such eminent people had somehow convinced me that it would leave me stuttering and with the fear that everything I did would be deemed insolent.
Imagining His Holiness as a stern and serious leader, I was surprised to find an ever smiling, gentle bespectacled man who is the 12th reincarnation of the founder of the Drukpa Lineage, Tsangpa Gyare Yeshe Dorje. He was clearly a vision of happiness and contentment and his zest for life and for spreading the message of love through various humanitarian activities is evident in the Live to Love Campaign which he established in March 2007.
Princess Pema Lhadon and her only daughter, Ashi Kesang Choden Wangchuck, also came to meet His Holiness when he was recently in Kuala Lumpur, the host city of the Live to Love Charity Event for Asia. The royal family has a strong connection with His Holiness as the Drukpa Lineage is the dominant school and state religion of Bhutan.
However, this does not mean that His Holiness is the spiritual leader of Bhutan.
"I am not the spiritual leader of Bhutan, which must be made very clear. There are many schools of thought, and the Drukpa Lineage is just one of many. Thus there is no one that reigns above all others – there is a mutual respect and understanding of the various teachings," said His Holiness.
"One of the challenges that I face is that I sometimes find it difficult to relay the exact meaning of my message; there might be some confusion or some others might misunderstand. I'm optimistic, however, that this can be improved upon," he enthused.
As a country which strongly upholds Buddhist principles and teachings, Bhutan is also famous for upholding equality among sexes. Polygamy is practised here (but only if the first wife approves of the union) – as in the case of the Fourth King who married four sisters – but so was the practice of polyandry. Apparently it goes both ways!
"It is not unusual for a household with many husbands to one wife – they do very well," explained Princess Kesang Choden. "It's mainly because of Buddhism's teachings that men and women are equal, and hence whatever the men does, the women are free to do the same. The Bhutanese are essentially monogamous, but in either case, the important thing is that one is fair to their spouse, no matter if they have one or many."
"In Bhutan, women are loved and respected, just as much as the men, if not even more so," added Princess Pema Lhadon. "The womenfolk in Bhutan are strong and independent, often holding positions of power – there is no discrimination."
Bhutan is located at the eastern end of the Himalayas and is bordered to the south, east and west by India and to the north by the Tibet Autonomous Region of the People's Republic of China. The strength of the Bhutanese people lies in their culture and their strong beliefs which are deeply rooted in the various schools of Tibetan Buddhism.
Through the efforts of the third King, His Majesty Jigme Dorji Wangchuck, also known as the Father of Modern Bhutan, the country has been experiencing slow yet steady progress into modernisation. The King had made the English language the royal family's first language, taking gradual steps to opening the country to the rest of the world while preserving Bhutanese culture.
"My daughter grew up in a much more different time than mine. Back then we didn't have the Internet, aeroplanes or even telephones!" said Princess Pema Lhadon.
Modernisation has even affected how His Holiness extends his messages to his devotees – he has a blog where his faithful followers are able to read about his thoughts as he goes on his journey around the world to spread the message of love and happiness.
An interesting point to note about Bhutan is its observance of Gross National Happiness, a policy instituted by the Fourth King in 1972. This measurement of happiness is just as important as economic prosperity or gross national product.
"It's derived from one of Buddhism's teachings, and it's a philosophy that creates an environment where our people's happiness and contentment is of utmost importance," explained Princess Kesang Choden. "It's hard to quantify and measure happiness, but we do have the four pillars of Gross National Happiness, such as sustainable and equitable socio-economic development, good governance, and also more holistic views such as preservation and promotion of our cultural heritage as well as the preservation of our natural environment. It's a well-rounded approach in taking care of the needs of Bhutan's people in the area that counts – their happiness."
And if happiness were a commodity, Bhutan would be a major exporter.
"We all have beautiful stories to share, and though we face the same problems as the rest of the world, Bhutanese are happy people. And that's what we need to share – how everyone can attain contentment, and be happy," explained His Holiness.
"People who are living by example make the best teachers, and in Bhutan, we have many spiritual teachers who are able to share with us the secrets behind happiness. It's about contentment and about being happy with what you have. We know that what we have is enough, and most of the time, being aware of that fact alone can change one's perspective about life," said Princess Kesang Choden.