Knowledge is the way to contentment
By Gyalsten K Dorji, Kuensel Online, Sept 21, 2009
Timphu, Bhutan -- In an effort to bridge the gap between Bhutanese youth and the understanding of Buddhism, a prominent Rinpoche interacted with school students at a talk in Thimphu yesterday and answered an unexpectedly long list of questions on Buddhism.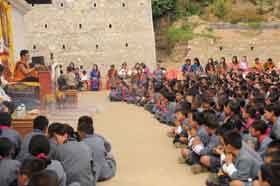 << Jangtrul Yangsed Rinpoche tells students of Changzamtog LSS during an interaction 21 September, 2009
The talk, organised by Chamzamtog lower secondary school (CLSS), began with Jangtrul Y Rinpoche speaking on how Buddhism could be integrated into daily life.
"We live in a world of negative emotions like anger and jealousy," Jangtrul Y Rinpoche told the gathering of about 300 CLSS students. Such emotions, if not controlled, can lead to an unpleasant life, said Rinpoche. Knowledge, not only about Buddhism but that received during education, was the way to ensure a content life, Rinpoche told the students. Rinpoche said, praying was also another method of attaining intelligence.
Rinpoche also warned the students about abusing drugs for social reasons or to deal with emotions. "You can wear hip hop clothing, it doesn't matter, but don't indulge in drugs, alcohol or tobacco," said Rinpoche.
Before opening the floor to questions from the students, Rinpoche said, "And finally, I want to share my principle in life with you: if you aren't capable of helping others, at least don't harm them."
Not anticipating many questions, only three minutes was initially allocated for the session. But with almost twenty students eventually getting in line at the microphone, the session lengthened to almost an hour.
"What is the meaning of Om ah hung baza guru pedma siday hung? Asked Tshering Chedup, a class VII student. His question on one of the most basic Buddhist prayers was accompanied by laughter and clapping among the students. Rinpoche very seriously replied that the prayer represented the body, speech and mind of all the buddhas. He then explained each word of the prayer before saying that the mantra was the asking for blessings to fulfil spiritual goals.
Phuntsho Choden, another class VII student, asked the Rinpoche to explain why nine levels of difference existed between women and men in Buddhism. Rinpoche declined to answer this question on the grounds that "I don't want to hurt anyone". "I have my own interpretation of this and I think it's not important as long as we cherish and appreciate the time we share together." Rinpoche added, "Whether boy or girl, we are all human."
Jangchub Lhamo asked Rinpoche for his say on what he thought about Buddhists converting to other religions. "If you think it's good for you, why not?" answered Rinpoche, "Buddha himself said, you are your own master." But Rinpoche also added that personally he felt Buddhism is more suited for this era and that, before following any religion, including Buddhism, it was logical to first "research" it. "Don't blindly accept anything," said Rinpoche.
Pema Dorji, a class VIII student asked the Rinpoche how to control urges to steal to the laughter of the audience. "You are feeling this temptation?" replied Rinpoche. Rinpoche told Pema Dorji that such actions would lead to negative consequences. Rinpoche suggested every time a negative emotion arose to instead perform a compassionate action.
"Spiritualisation is there but the problem is there is a lack of guidance," said Jangtrul Y Rinpoche.
"We organised this talk to make our students more aware about Buddhism, and its relation to our daily life," said the principal of the school, Jigme Choden. "These are changing times and, with rapid modernisation, there aren't many people to give education on this issue," she added, "even parents are forgetting the basic principles of Buddhism."
Although most students interviewed said they understood Buddhism more as a result of the talk, it was also apparent that several students were bored by the discussions.
One student said, "Some of the things he talked about were hard to understand." The student said Buddhism could become more interesting for himself if it was made into entertaining movies. But 15-year-old Ugyen Dema of Class VIII said the discussion had been very productive for her personally. "I now understand what our morning prayer means, and I think it means more."
Jangtrul Y Rinpoche was recognised at the age of eight as the reincarnation of Jangtrul Pethrin Rinpoche of Jangchubling monastry in Kurtoe in 1988.