Buddhist leader Bana Bhante passes away
The Daily Star, January 31, 2012
Dhaka, Bangladesh -- Venerable spiritual leader Sadhana Nanda Mohasthabir, widely known as Bana Bhante of Rajban Bihar in Rangamati, passed away in the city yesterday.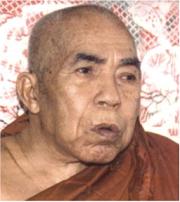 The 93-year-old Buddhist monk was on life support at Square Hospital since Friday with multi-organ failure and respiratory problems due to old age.
He was flown in to the hospital from Rangamati Circuit House by a chopper on Friday noon as he fell unconscious Thursday night.
Hospital sources said Bana Bhante breathed his last around 3:15pm at the intensive care unit.
Because of his spiritual power acquired through years of meditation in the deep forests of the hill district, local Buddhists consider him to be a living embodiment of the values of Lord Buddha.
He was born on January 8 in 1920 in Moghban union of Sadar upazila in Rangamati. His original name was Ratindra Chakma.
He started meditation in 1950 and continued till he became ill. It is widely believed that he has never committed any crime and done any injustice to anybody since his boyhood.
The Buddhist community in Rangamati constructed the Rajban Bihar and requested him to take the helm in 1975.
Bana Bhante wrote several books about Buddhism -- Suttrapath and Sudristhi.
Hearing of his death, hundreds of devotees thronged the hospital. Among them were Industries Minister Dilip Barua, chief of Chakma Circle Raja Devasish Roy and State Minister for Chittagong Hill Tracts Affairs Dipanker Talukder.
His body will be kept at Kalabagan ground from 8:00am to 10:00am today for paying last tributes.
BNP Chairperson Khaleda Zia has expressed deep shock at the death of Bana Bhante. In separate massages, Bangladesh Buddhist Federation, Parbatya Chattagram Jana Sanghati Samiti and Jatiya Party also expressed their sorrow at the death of the spiritual leader.