A devil's design
The Daily Star, Oct 14, 2012
Fanatics used fake facebook page to run rampage in Ramu
Ramu, Bangladesh -- An unprecedented hate campaign against the Buddhist community raged through Ramu, a region known for its communal harmony for centuries until the night of September 29. Eighteen pagodas were damaged and about 50 houses burnt down in six hours of madness by Muslim zealots. Julfikar Ali Manik investigated extensively, only to find that the source of the shocking outrage was a faked facebook page.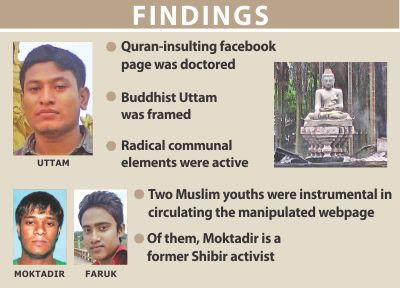 It was all faked.
The facebook page with an anti-Islam picture that provoked the September 29 rampage against the Buddhist community in Ramu was photoshopped.
Somebody or a group had taken a screenshot of Uttam Kumar Barua's facebook profile page, cut out the address of anti-Islam website "Insult allah" and pasted it on the address bar visible in the image.
Once the fabrication was done, it looked like "Insult allah" has shared the anti-Islam image with Uttam and 26 others.
The Daily Star showed the screenshot to IT and graphics experts.
The paper has become sure that it was a manipulation done to frame Uttam, who is a local Buddhist, and wreak mayhem that left 12 Buddhist temples burned to ashes and dozens of houses damaged.
A very innocent story was also cooked up about how Uttam's so-called facebook page came to public knowledge.
Omar Faruk, a youth of Ramu, claimed his friend Abdul Moktadir alias Alif, student of a private polytechnic institute in Chittagong, came to his mobile repairing shop in the evening of September 29.
According to Faruk, his friend signed in to his facebook account and made a scene finding Uttam's profile page bearing the anti-Islam photo.
Moktadir and Faruk claimed they had taken screenshots of the "profile page belonging to Uttam".
The fabrication of screenshot could be the first part of the plan behind the mayhem and bringing rioters from outside Ramu the second part.
Why the plotters chose Uttam's profile is not clear yet. Uttam, an underprivileged assistant deed writer, has been on the run along with his wife and child since the night of the incident.
One thing is evident in the screenshot that someone called "Abdul Muktadir" had entered Uttam's profile though he was not a facebook friend. Uttam's profile was not restricted.
The facebook account of "Abdul Muktadir" is not accessible anymore.
But Faruk's friend who came to the shop in September 29 evening is registered at Chittagong Polytechnic Institute as Abdul Moktadir.
He was detained by police on October 9.
"My son is a very bright student. He got stipend when he was in school. He has hearing problem but his memory is very sharp," said his mother Sajeda Begum at his house at Fakirabazar on October 6.
She refused to help The Daily Star meet her son Moktadir and repeatedly requested this correspondent to drop the idea of writing about the matter.
"He can fix mobile phone problems and he has very good computer knowledge as he studies computer engineering in Chittagong," she said.
Talking to this correspondent on October 3, Faruk expressed annoyance as his help was sought to reach Moktadir.
He dropped out after class-IV, but he is skilled at repairing computers and mobile phones, he said.
Interestingly, his facebook account claims he studied at Ramu High School and Cox's Bazar Govt Collage.
He set up a shop three to four years ago at Fakirabazar in Ramu. Locally known as "Faruk's computer shop", it is close to Moktadir's house.
Faruk denied link with any organisation or political party. Sajeda claimed the same about his son Moktadir.
Moktadir admitted that he was involved with Islami Chhatra Shibir when he was a student of class IX and X in 2008-09 at Ramu Khizari Adarsha High School, according to a police official.
Moktadir's mother also claimed nobody among their close relatives has any involvement in politics.
However, one of her brothers-in-law is Naikhangchhari upazila chairman of in Bandarban. His name is Tofail Ahmed, who doesn't hold any official post but locally everyone knows him as a Jamaat leader.
Tofail denied his involvement with Jamaat and said he was in Islami Chhatra Shibir, student wing of the party, when he was student of Chittagong University.
Surprisingly, Sajeda Begum, while giving names and brief profile of her close relatives to this reporter, mentioned the brother-in-law as Ali Ahmed.
But when her brother said it is Tofail Ahmed, she looked embarrassed but explained nothing.
Images in Faruk's computer
Some anti-Islam images were already stored in Faruk's computer at the shop.
Faruk claimed to this correspondent he and his friend Abdul Moktadir quickly created some image files with screenshots of Uttam's facebook account.
They did this as two strangers in his shop were unhappy seeing the pictures on their facebook, he said.
They saved the pictures after the strangers left, said Faruk, adding that they had to download some software to do it.
Faruk said they created the files to prove to the locals that the picture insulting the Quran did not belong to them and was from Uttam's profile.
He also added that Uttam's account suddenly disappeared within a short time after they saved the images. Faruk's claim was very confusing as no one else, except the account holder, can deactivate a facebook account.
And, moments after the departure of the two strangers, there was a continuous flow of people curious to see the pictures. All of them were shown images stored in Faruk's computer.
The people with no knowledge about social networking site facebook believed that was Uttam's facebook page with the anti-Islam image.
Faruk and Moktadir not only exhibited fabricated screenshots of Uttam's facebook profile, but also stored many pictures downloaded from "Insult allah" and the Quran-insulting photo, which was later circulated from mobile phones to mobile phones via Bluetooth.
In fact, there were significant anomalies between the claims of Faruk, Moktadir's mother and other local witnesses who saw the pictures at Faruk's shop.
Many locals got the images from Faruk and Moktadir on September 29 evening. They were local journalists, Faruk said, adding he does not know their names but would be able to recognise everyone.
Faruk on October 3 claimed that he could not give The Daily Star the images since the Ramu police have been keeping his computer since the night of September 29.
The Daily Star got those pictures, but from Nazir Hossain, owner of a local computer-training shop. He said the pictures were spread from Faruk's shop and after September 29, he collected those from locals.
Locals and a police official said these are the images they had seen on Faruk's computer.
Faruk claimed the picture in question appeared on his facebook page. Moktadir first saw it and then him.
But the collected pictures does not support Faruk's claim. The account of "Abdul Muktadir" was used while seeing Uttam's profile page and taking the screenshots.
If someone does not restrict his/her profile, every facebook account holder can view some information of that person. Otherwise, a brief restricted version of the profile is seen.
This correspondent failed to reach Uttam for a comment.
URL FAKED
"www.facebook.com/Insultallahswt" appeared in the browser address bar of the profile page of Uttam, according to the screenshot taken by "Abdul Muktadir".
But the image had clear signs of manipulation suggesting that "/Insultallahswt" was pasted there either to hide the real address or to convince people how bad Uttam was.
Even the information above the tagged picture on Uttam's profile --"Insult allah with Uttam Kumar Barua and 26 others" with a date of September 18 -- was similarly forged.
It was not possible to know whether this manipulation was done on Faruk's computer or it was put in his computer after making the images somewhere else.
Answers to these questions are locked in Faruk's computer seized by the police, said an expert.
WHO WERE THE STARNGERS?
According to Faruk, two men aged 23-24 saw "Uttam's facebook page" on his computer along with him and Moktadir.
Faruk had never seen the two before. Faruk was born and brought up in South Sreekul of Ramu.
Moktadir's mother Sajeda claimed that she heard that four customers in the shop made the hue and cry seeing the picture on Faruk's computer.
A person, who had seen the picture that night at the shop, requesting anonymity said being informed, he along with a few others went there around 8:30pm.
He did not find Faruk there; a boy unknown to him was showing the pictures. The "unknown nice looking" boy was also explaining to the locals the meaning of the picture.
"When the boy was giving me explanations of a picture, I told him not to explain and just to show the pictures."
The Daily Star investigation found this unknown boy was Moktadir.
WHY MOKTADIR IN RAMU?
After passing the SSC from Ramu, Moktadir moved to Chittagong for a diploma on computer engineering at Shyamoli Ideal Polytechnic Institute.
Since then, he has been living in Chittagong and visited his mother occasionally.
Although the final exams of his sixth semester were going on, Moktadir showed up in Ramu.
His mother Sajeda said Moktadir visited her on September 25 and the following day he had gone to his uncle Tofail Ahmed's place in Naikhangchhari and returned to Ramu on September 28.
He left Ramu again for Chittagong on October 1, she said.
Referring to records, Moktadir's dormitory superintendent Imam Hossain said Moktadir was not in the dorm between September 22 and 26.
He was present on September 26 and on 27 but absent on September 29 and 30. He returned to the dorm on October 1 and left again on October 5.
Police detained Moktadir on his return to the dorm in the night of October 9.
His mother Sajeda said, "Moktadir came between the gaps of his exams to take money to pay the fees for the seventh semester admission. As he had time, he went to visit Naikhangchhari for a few days."
Sajeda gave Moktadir Tk 17,000 for admission fees, she claimed.
However, the principal of the institute said they did not ask students for admission fees for the seventh semester since the sixth semester finals were still going on. They could ask for the fees in November.
Faruk claimed he and Moktadir went to his shop together on September 29 evening after having snacks at a local restaurant. Both saw the pictures on facebook, showed and distributed those among locals and later went to the police station.
Sajeda, however, claimed Moktadir went to Faruk's shop to repair his aunt's mobile phone around 7:30pm on September 29. At that time, he saw the pictures and after repairing the phone he retuned home within an hour.
Later, police went to their home and asked Moktadir to go to the police station to confirm that he saw the pictures at Faruk's shop.
There were several other inconsistencies between the statements of Faruk and Sajeda on the same issue.
Sajeda tried to hide many things while talking to The Daily Star on October 6 and even the information she divulged was later found to be untrue during The Daily Star investigation.
THEY LIVE CLOSE
The first campaign to incite people started from Faruk's shop at Fakirabazar of Ramu, which was close to Moktadir's home.
A small procession was brought first from near the shop. Hafez Ahmed, who lives next door to Moktadir's home, played a leading role in bringing out the procession attended by some other locals.
When this correspondent went to talk to Sajeda on October 6, Hafez Ahmed's sister-in-law was there too.
She defended Moktadir and vigorously discouraged the correspondent to write about him.
Hafez Ahmed has been on the run since pictures of him in the procession were published in newspapers on October 2.
WHO IS ALIF?
Moktadir is known as Alif in Ramu Bazar area. His mother said Alif was his nickname.
The nick was not used in the facebook account of "Abdul Muktadir".
However, The Daily Star found a facebook account of "Abdul Muktadir Alif".
Very little information was found the profile as it is restricted to non-facebook friends of "Abdul Muktadir Alif". It said "Abdul Muktadir Alif" studied at Ramu High School. The profile picture was of a boy but sex was mentioned as female.
Interestingly, Faruk also uses the nick Alif for his facebook account even though it is not his name.
Asked on October 3, Faruk said he just used it for his facebook account as he liked this nickname of his friend.
MOKTADIR WAS SHIBIR MAN
Md Iltut Mish, additional superintendent of police in Chittagong, who was working in Cox's Bazar on deputation, told The Daily Star on Friday, "According to Moktadir's statement and the information in his personal diary, he was the sports secretary of Ramu thana Islami Chhatra Shibir in 2009."
Moktadir had told police that since he was good in sports, Shibir men gave him the post, he said.
Contacted over the phone, Moktadir's uncle Tofail Ahmed said he was not involved in Jamaat. "It would not be possible for anyone to show my name in any document of Jamaat."
Locals in Ramu said Tofail's car went to Ramu twice within a few days since the attack on Buddhist homes and pagodas.
Tofail claimed his wife went to the doctor's and some other places in Cox's Bazar and she could have visited her mother and sister in Ramu.
Moktadir's two maternal uncles Rakib and Rajib also live with Tofail in Naikhangchhari.
Locals said one of them was seen in Ramu before the attack and during the night of the attack.
Tofail ruled out the possibility of them being anywhere near Ramu on September 29 night. He said, "They [Rajib and Rakib] live with me here [in Naikhangchhari] and they were at home that night."
Rajib told this correspondent over the phone that he had gone to Ramu on September 27 on family business and returned to Naikhangchhari the same day.