Ancient Buddhist scholar's legacy as bridge between China, Bangladesh remembered
by Liu Chuntao, Naim-Ul-Karim, Xinhua, Jun 15,2015
DHAKA, Bangladesh -- During the 10th-11th Century, he was known in Bangladesh, ancient India, China and northern Asian countries, as saint-philosopher by virtue of his unique character, erudition, scholarly attributes, and spiritual eminence.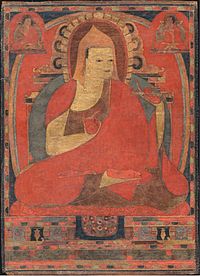 He was a man of many talents and served everybody without regard of caste, color, sex, or religion.
That was why hundreds of people, including academics, economists, foreign diplomats and leaders of various religions, have gathered in a memorial function in Bangladesh capital Dhaka to commemorate Atish Dipankar Srijnan (980-1053) on the 37th anniversary of return of his ashes from China to his country of birth.
Speaking at the ceremonies, retired Lieutenant General Mahbubur Rahman, also the former Chief of Army Staff of Bangladesh Army, said Atish's legacy is timeless and will continue to inspire mankind in its search for peace, harmony and amity.
"There is no exaggeration to say today that he was really the eye of Asia," Rahman said.
The ashes of Atish were returned by China to Bangladesh in 1978.
Rahman said he was indeed the "loftiest preacher" of love and happiness, purity and peace, kindness and humility, benevolence and humanity.
Speaking on the occasion, Chinese Ambassador Ma Mingqiang paid tribute to Atish by saying that the Bangladeshi scholar was "on a mission to preach peace, teach knowledge and share culture with China, including his expertise in mathematics and construction."
China will continue to support efforts of the Dhaka government to build new temples for the Bangladesh icon, including the ongoing excavation of over 1,000-year-old Buddhist temple in the birthplace of Atish Dipankar, Ma said.
Rahman, who presided over the memorial function organized by Bangladesh Cultural Academy and Bangladesh Buddhist Research Association, said China, which has the legendary philosopher and teacher Confucius who lived between 551 and 479 B.C., is a country of wisdom and knowledge.
China's peaceful rise has generated enormous prosperity for the countries of Asia even today, Rahman said.
Rahman also expressed the hope that President Xi Jinping's "One Belt, One Road" initiative of reviving the ancient Silk Road through a network of roads and maritime linkages will boost peaceful cooperation between China and the various regional blocs, adding that this was precisely the dream of Atish: creating a continent of peace in the whole Asia.
Named Chandragarbha by his parents, Atish was born in 980 or 982 AD to a royal family in Vajrayogini village on the outskirts of Dhaka.
Because of his outstanding knowledge and wisdom, he was named Atish Dipankar Srigyan, which means "glorious wisdom source of light." He has been venerated for nearly 1,000 years as an outstanding personality in Tibet Autonomous Region and Asian countries north of the Himalayas.
At the invitation of the king of the Western Tibetan kingdom of Guge, 56-year old Atish journeyed to Tibet to introduce the Buddha 's teachings in 1038. Dipankar stayed in Tibet for 17 years until he passed away in 1054.
He wrote over 200 Buddhist books, popularize medical science, built reservoirs and did some translations.
But the great philosopher of 10th-11th Century was forgotten for centuries in a peculiar twist of history in the land of his birth, Bangladesh, as well as in Indian sub-continent until the end of 19th Century.
Illness and the unfavorable weather conditions in the Himalayan region having prevented him from returning home to Bangladesh, Atish died in Tibet at the age of 73.
After Atish Dipankar was "rediscovered" in his motherland nearly a thousand years after he left Bangladesh for Tibet, China offered to return part of his ashes to Bangladesh.
During the handover in June l978, Beijing said that the return of Atish's ashes to Bangladesh was part of its efforts to strengthen China-Bangladesh relations.
Since then, Atish has become a symbol of a stronger "China- Bangladesh relations." In fact, a mausoleum has been built in the village of his birth with support from the Bangladeshi government.
"We express our gratitude to China for offering us Dipankar's ashes," said Syed Abul Maksud, an eminent Bangladeshi journalist, columnist, research scholar, essayist, and writer.
He stressed the need for developing a world-class center to study the life and works of Atish who is revered not only in Bangladesh, China and India but also in other parts of the world.
Dhaka University Professor Sadrul Amin underscored the need for translating all books written by Dipankar and articles about his works into English and Bangla.
"We have not published books on Atish in Bangla and English. We must help our young generation know more about him," Amin said.
Another Dhaka University Professor Emajuddin Ahamed said all Bangladeshi people must feel proud of Atish "who was able to conquer the world not with arms but with his remarkable knowledge and deep wisdom."