Kathin Chibar Dan: Robe offering festival to preserve Buddhist tradition in Chitagong Hill Tracts (CHT)
The Daily Star, Nov 10, 2016
Dhaka, Bangladesh -- Kathin Chibar (robe) Dan, the biggest religious festival of the Buddhist people in Chitagong Hill Tracts (CHT), started yesterday at Rajban Bihar of the Chakma king in the town with great enthusiasm and festivity.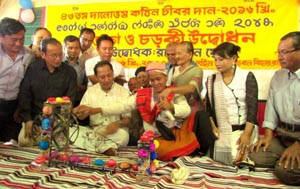 << Chakma Raja Devashish Roy inaugurates Kathin Chibar Dan through opening the spinning wheel at the bain ghar (sewing room) of Rajban Bihar in Rangamati town yesterday.
The hill districts are Rangamati, Khagrachhari and Bandarban, said the organisers.
They have already completed all preparations to hold the 43rd Kathin Chibar Dan festival this year.
Raja Debasish Roy, Chakma circle chief, inaugurated the two-day-long festival through opening the bain ghar (sewing room) and spinning wheel around 3:00pm at Rajban Bihar.
"Every year we hold this religious festival to preserve our tradition and customs. We follow this bain (sewing) amongst all over the Buddhist people in CHT," said Debasish Roy.
Bishakha, a nurse of Goutam Buddha, introduced the religious festival about 2500 years ago.
Since then the Buddhist community celebrate the Kathin Chibar Dan or the yellow robes offering ceremony every year.
Thousands of Buddhists devotes from three hill districts have already gathered in Rangamati and around the Rajban Bihar.
One of the organisers, Goutam Deawn, president of Upashok-Upashika Karjo Nirbahi Parishad, said the district administration have already taken tight security measures to hold the festival peacefully.
Md Rashid, officer-in-charge of Rangamati Kowtoali Police Station, said police personnel have already been deployed to avert any further trouble during the programme.