Need to find a just solution to the Tibet issue: Dalai Lama
UNI, April 6, 2005
New Delhi, India -- The Dalai Lama today admitted that the Tibet autonomy issue is complex, but emphasised on the need to find a solution that is just and satisfactory to the people of the region and its neighbouring countries.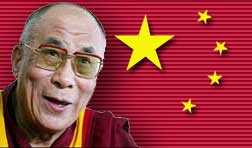 ''Once I feel free, it is good for everybody. This is a moral issue. It is important and beneficial for Tibet to be autonomous,'' he said.
The Dalai Lama was speaking at a function organised by the Network for Promotion of Asian Cinema (NETPAC) and the film quarterly Cinemaya after the screening of an hour-long documentary on him by the renowned filmmaker Goutam Ghose.
''Impermanence - A Journey into the Life of the Dalai Lama'', which was premiered at the Venice Film Festival in September last year, had its Asian premiere here today.
His Holiness emphasised the need for compassion that should be ''unbiased'', as this would lead to greater happiness and peace. He applauded Goutam Ghose, Italian producer Sergio Scapagnini and researcher Renuka Singh for the work done by them on the film which, he added amid laughter, had revealed some facets about his own life which he had himself not noticed.
He said the film was an expression of his decision never to use violence, and also gives a glimpse into the culture of Buddhism.
Former Union Minister Vasant Sathe, who was also present, described the Dalai Lama as the modern Buddha and said it was a matter of pride for India that his Holiness was living in the land where Buddhism was born.
Mr Ghose said he had been inspired to make the film when he had gone to Tibet in the mid-nineties to make a series on the silk route to China for the Discovery and Doordarshan television channels.
The Dalai Lama, he said, had opened a whole new door for him of unbelievable wisdom. He described the spiritual leader as an untiring monk who was working for peace through non-violent means, the only person to do so after Mahatma Gandhi.
He said impermanence and inter-dependence are the basic philosophies that can stop the planet from destruction.
Film critic Aruna Vasudev, who is President of NETPAC, the producer and researcher also spoke on the occasion.
The film focuses on various aspects and tenets of religious faith found in practice of religion. According to Ghose, the film is about love and compassion, faith and love, doubts and revelations for the unknown - all that relates to the Dalai Lama's inner world.
Ghosh had to travel to Tibet several times and also shoot extensively in Dharmashala, where the Dalai Lama now lives. He also managed to shoot an exclusive interview with His Holiness and give glimpses of his personal life.