Dalai Lama meets with Japanese Buddhist Leader
TibetNet, April 20, 2005
Dharamshala, India -- His Holiness the Dalai Lama yesterday met with the abbot of Nishi Ongangji, one of the most important Buddhist temples in Japan. It is said that there are about 10000 temples under Nishi Ongangji. The abbot is one of the most important Buddhist leaders of Japan and also the present chief of Japanese association of Buddhists.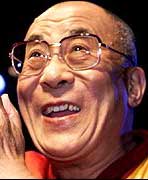 His Holiness the Dalai Lama had a luncheon reception at the Nishi Ongangji with its abbot, his deputy and Mr. Makino, member of the Japanese parliament and president of the Japanese Parliamentary Group for Tibet. This was His Holiness? fourth visit to the temple.
His Holiness arrived in Tokyo yesterday and will leave for New Delhi later today. His Holiness will then head for Gangtok, the capital of Sikkim, a predominantly Buddhist state of India, where a weeklong visit has been scheduled.
His Holiness will arrive at Gangtok tomorrow as requested by 6 Tibetan associations and 8 Sikkimese Buddhist associations, Gangtok?s Tibetan Welfare Officer Ngawang Norbu told the Voice of Tibet radio service.
Ngawang Norbu la said the state government of Sikkim has provided all major financial supports and logistics for the visit. The chief secretary to the chief minister of the State has personally inspected the security and other arrangements for the visit.
His Holiness will be visiting the Kunphel ling Tibetan settlement of Rawangla and Samdup Tse, a 115 feet statue of Guru Padhmasambhava. His Holiness will teach on Longchen Rabjam?s Sem-nyi Ngel-So (Mind rejuvenating Mudra) and give an initiation of Rigzin Dungdrub(Sadhana of the lineage of knowledge-holder).