Ayurveda in Buddha's land
IANS, MAY 05, 2005
PATNA, India -- Inspired by its success in Kerala, Bihar wants to tempt tourists with a special ayurveda therapy at its Buddhist pilgrimage centres of Rajgir and Bodh Gaya.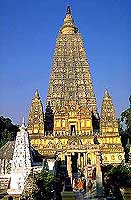 The Bihar State Tourism Development Corp (BSTDC) will be offering the therapy as part of a new health rejuvenation package for international and domestic visitors.
BSTDC managing director Anand Kishor said that two health centres have been planned - in Rajgir town of Nalanda district and Bodh Gaya in Gaya district.
The centres are likely to be operational by the year-end.
Bodh Gaya, about 180 km from here, is famous as the birthplace of Buddhism. Over 2,500 years ago, Lord Buddha attained enlightenment there under a banyan tree, near the Mahabodhi temple.
Rajgir, about 100 km from here, is known for its sculptures and Buddhist ruins.
The two towns attract hundreds of tourists from Asia, Europe and the US every year.
The health package would include ayurveda therapies such as shirodhar, nasya, abhyangam and pizichil .
In shirodhar , warm oil is poured on the forehead to soothe the mind and the senses. Nasya is the nasal administration of medicine to cure diseases. in pizichil, lukewarm herbal oils are applied on the body in a rhythmic way. Abhyangam is another ayurvedic massage.
A BSTDC official said the health centres would be replicas of such facilities in Kerala, one of the favourite destinations of international tourists.
"We will build the health rejuvenation centres on the Kerala model," the official said.
BSTDC had signed a contract with a Kerala-based private company. "The company will provide doctors and therapists for our centres," Kishor said.
Despite its rich history and culture, Bihar lags far behind other Indian states in tourism. Its notoriety as a lawless state keeps tourists away.
To turn around the state's tourism, BSTDC a few months ago decided to revamp hotels and introduce special tour packages for non-resident Indians (NRIs) and pilgrims.
In 2003, BSTDC had started to woo NRIs from Bihar back to their place of birth.