Invoking Buddha to save the big cats
by Dinesh C. Sharma, Bangkok Post, May 23, 2005
The poaching of tigers from supposedly protected areas in India has got so bad that the Dalai Lama has thrown his weight behind a campaign aimed at changing attitudes among Tibetan expats in that country and in Nepal
New Delhi, India -- Tigers in India are today found more in newspaper pages than in jungles. It is known that the population in wildlife parks and reserves is shrinking but few could have imagined that the situation was so grim that not a single tiger would be sighted even in showpiece tiger reserves such as Sariska.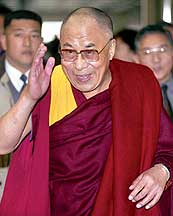 << His Holiness the Dalai Lama is throwing his weight behind the campaign against wildlife trade.
An embarrassed government has ordered an enquiry by the Central Bureau of Investigation into the disappearance of tigers and has convened a high-level task force to suggest protective measures. An independent wildlife intelligence and enforcement agency, on the lines of a narcotics control bureau, is also on the cards.
The situation has only confirmed the fears, which wildlife and conservation organisations have been voicing for several years now, that the poaching of tigers and other big cats in India has reached alarming levels. India does not have a market for wildlife products and derivatives, but poaching is rampant; this is because of the demand for such items in China, Japan and parts of East Asia where there is a thriving underground market for tiger bones and skins.
After conducting field investigations in India, Nepal, the autonomous region of Tibet and other parts of China, the UK-based Environmental Investigation Agency (EIA) last year traced several routes used by traders in endangered-animal parts all the way from the jungles of northern India to end-users in the Tibetan capital, Lhasa, and elsewhere in China. The investigation unearthed a vast, organised network of poachers and traders operating in the Himalayan region.
The single largest seizure in the region to date of big-cat pelts took place at Sangsang, Tibet in October 2003. A total of 31 tiger skins and 581 leopard skins were impounded on that occasion, along with 778 otter skins All the evidence indicates that this consignment originated in India and was on its way to Nepal via Tibet. According to EIA campaigner Debbie Banks, the size of this consignment revealed the scale of the illegal trade and confirmed the role of Tibet as a key location for the smuggling, distribution and use of such skins. It is a multi-million-dollar business with a single tiger skin fetching prices in excess of $10,000 (398,684 baht) on the international market.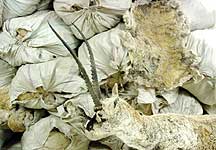 Confiscated chiru skin in China >>
A recent study by the New Delhi-based Wildlife Trust of India (WTI) found that Tibetans living in exile in India and Nepal have become increasingly involved in the trading of wildlife derivatives such as tiger and leopard skins and bones, otter pelts and parts from smaller cats. They work at different levels, from buying and selling to providing courier services along India's borders borders with Nepal and Tibet, as well as along the Nepali-Tibetan frontier. The Tibetan links became apparent when eight tiger skins and about 400 kilogrammes of tiger bones were seized in 1983 at the Tibetan resettlement colony of Majnu ka Tila in Delhi.
Trade operates in the other direction, too. Raw shahtoosh wool, obtained by killing an endangered species of antelope found in Tibet, is smuggled from that country, via Nepal, to Kashmir. This trade now appears to be under control, however, as a result of a ban imposed in India on shahtoosh products.
While the governments of India, Nepal and China have stepped up efforts to exchange information and intelligence on illegal wildlife trafficking, wildlife bodies have decided that a greater effort is needed to sensitise local communities against this practice. The WTI and the UK-based Care for the Wild International recently launched a groundbreaking "Tibetan Conservation Awareness Campaign" to make Tibetan expats in India realise the importance of protecting endangered species of animals and to wean them off participation in the illegal trade in animal parts. The campaign has received the full support of the Dalai Lama.
"Tibetans are basically Buddhists in the Mahayana tradition and we preach love and compassion towards all other living beings on Earth. So, it is our responsibility to realise the importance of wildlife conservation," the Tibetan spiritual leader said at the campaign launch in New Delhi.
"In Tibet, some people use fox tails to decorate their head gear and this forms a part of their tradition. We must realise that because of our own follies a large number of our animals are getting killed or destroyed and we must stop this. The message of mahakaruna has clearly asked us to follow and preach love and compassion for all living beings."
The Dalai Lama pointed out that animal sacrifices were common in Tibet before the arrival of Buddhism but that the practice has gradually declined since, although it may still be prevalent in some remote areas. "People have become more compassionate and the lessons of mahakaruna were gradually popularised," he said. "Even in India all the monastic institutions today are promoting vegetarianism. So I think, after a thousand years, that the Buddha's message of mahakaruna is [now] very much [part of the] Tibetan way of life."
Devout Buddhists admire a conservationist rather than a "licentious" lifestyle, said WTI senior adviser Ashok Kumar. "This forms the essence of the campaign to spread the message about the conservation of nature, to build awareness in the Tibetan community and remind the ones who have veered away from the tenets of compassion and respect for all living beings [to return to the fold]," he said.
The Dalai Lama's thoughts on this subject have been taped and are to be replayed at Buddhist monasteries and Tibetan settlements across India, where educational material on wildlife conservation will also be distributed.
Rupa Gandhi Chaudhary, coordinator of the WTI campaign, feels that the trade in endangered animals can be checked at its source by changing people's mindsets and developing alternative livelihoods for those involved.
"The most effective way of achieving this objective is to raise education and awareness levels among Tibetan communities," he said.
The campaign, and the support extended to it by the Dalai Lama, is indeed praiseworthy. At the same time, one cannot ignore other links in the chain of this illegal trade involving known gangs and certain tribes in India. A cluster of 14 villages in Madhya Pradesh state and another set of villages in Haryana state are known to harbour wildlife poachers belonging to two tribes in particular.
If awareness campaigns, coupled with rehabilitation and alternative-livelihood packages, were targeted at such areas, it could help a great deal in breaking the back of the trade in endangered species of wildlife.