Buddhist circuit can draw tourists
Newindpress, June 1 2005
BHUBANESWAR, India -- With the focus shifting to non-traditional tourism in the State, the stakeholders are exploring prospects of Buddhist tourism circuits.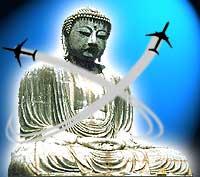 With an estimated seven million Buddhists dotting the South Asian countries, the Benaras-Bodhgaya-Bhubaneswar circuit is being promoted as a major draw. In the light of all these developments, prospects of the proposed Mahanadi Buddhist Circuit (MBC) appear bright.
BJD legislator and former minister Debiprasad Mishra, who has been campaigning for declaration of the MBC, told this website?s newspaper that Chief Minister Naveen Patnaik has evinced keen interest in promotion of Buddhist tourism in the State and in MBC in particular.
The Mahanadi river valley played an important role in spread of Buddhism in Orissa during the ancient times as revealed from preliminary research, Mishra pointed out.
While Boudh is believed to be named after Buddha, there are a number of destinations downstream like Baneswarnasi that hold significance for Buddhists, he added.
Mishra, further informed that Buddhism continues to be the religious practice of several villages in Badamba-Narasimhapur, Nuapatna and Tigiria areas.
Most of the weavers? community in these areas are followers of Buddhism that has been reflected in their art. As the living practitioners of an ancient faith, these villagers could attract the followers of Buddhism in large numbers, he observed.
MBC can be made more attractive for tourists, both domestic and foreign, by introducing a cruise circuit with water sports facilities in the river.
Its unique heritage can combine adventure and eco tourism, for being developed as a major tourists? destination, he felt.