Dalai Lama turns 70 on July 6, with hopes of ending exile
The NewsAhead Agency, June 7, 2005
DHARAMSALA, INDIA -- July 6, 2005. The 70th birthday of the peripatetic 14th Dalai Lama, celebrated surreptitiously in Tibet and openly at his home-in-exile in India, promises to be a useful focus for both sides of the "Free Tibet" movement.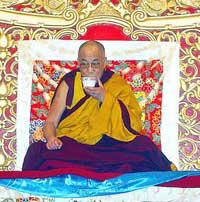 For the Dalai Lama, Nobel Peace Prize recipient in 1989, the approach of the birthday is a prompt to put a busy travel itinerary into overdrive. His supporters can be counted on to stage "Free Tibet" demonstrations wherever he appears, and to coordinate both protests and celebrations on Jul 6. World Tibet Day, on Jul 3, is another symbolic choice for demonstrators.
The Buddhist leader manages a government-in-exile in neighboring India and roams the world with a dual purpose -- preaching peace and Buddhist beliefs, while lobbying world leaders to support the quest for autonomy for his birthplace.
China has made a contested claim to sovereignty over Tibet for hundreds of years, and has occupied the mountainous country since 1951.
The Tibetan government in exile and international human rights organisations have criticised human rights violations, as well as religious, ethnic and ecological destruction, under Chinese rule. Beijing denies charges that it represses religious freedoms in Tibet, and that an influx of ethnic Han Chinese is destabilizing the traditional culture and forcing Tibetans to the economic margins.
The Chinese government accuses the Dalai Lama, who fled his country in 1959, of subversive activity that threatens to undermine Chinese sovereignty in Tibet. The world?s most famous Tibetan denies the charge, asserting that he seeks only cultural and spiritual autonomy for Tibet.
The Buddhist leader is received in most countries, despite Chinese fuming. World leaders who have a vested interest in staying on the right side of China say they admit the Dalai Lama as a Nobel laureate envoy for peace and as a religious leader, not a political figure.
It?s certain that as July approaches the Chinese governments will increase pressure on foreign governments to refuse audiences and even visas for the Tibetan leader, while releasing a wealth of statements about improvements to Tibet under Chinese rule. In China's view, Tibet was a backward and uncivilised feudal theocracy led by the Dalai Lama before the 'peaceful liberation' by Chinese Communist soldiers in 1950.
The Dalai Lama has often said he is confident he will set foot again in Tibet in his lifetime. China has made it clear that there is no chance of negotiations for his return home until he publicly declares both Tibet and Taiwan are part of China and halts his "splittist" agenda.
China has repeatedly questioned the Dalai Lama's claims that he does not seek independence for Tibet. In the eyes of the Chinese leadership, the "middle way" proposed by the Tibetan leader is just another ploy to seek Tibetan independence.
The impasse is not as rigid as it appears, as negotiations have increased between the Dalai Lama's envoys and Beijing in recent years, and both sides might see mileage in compromise. A 70th birthday is a reminder that time is running out for both sides.
The Dalai Lama's middle way proposal is causing resentment in some exiled Tibetan communities, where impatient militants see little virtue in compromise.