PM Modi inaugurates Global Buddhist Summit in New Delhi
The Buddhist Channel, in collaboration with Buddhistdoor and IDN, 20 April 2023
New Delhi, India -- The Prime Minister of India, Shri Narendra Modi, inaugurated the Global Buddhist Summit at Hotel Ashok in New Delhi on April 20, 2023. The two-day Summit is being hosted by the Ministry of Culture in collaboration with the International Buddhist Confederation (IBC), and it is an effort towards engaging the global Buddhist Dhamma leadership and scholars on matters of Buddhist and universal concerns.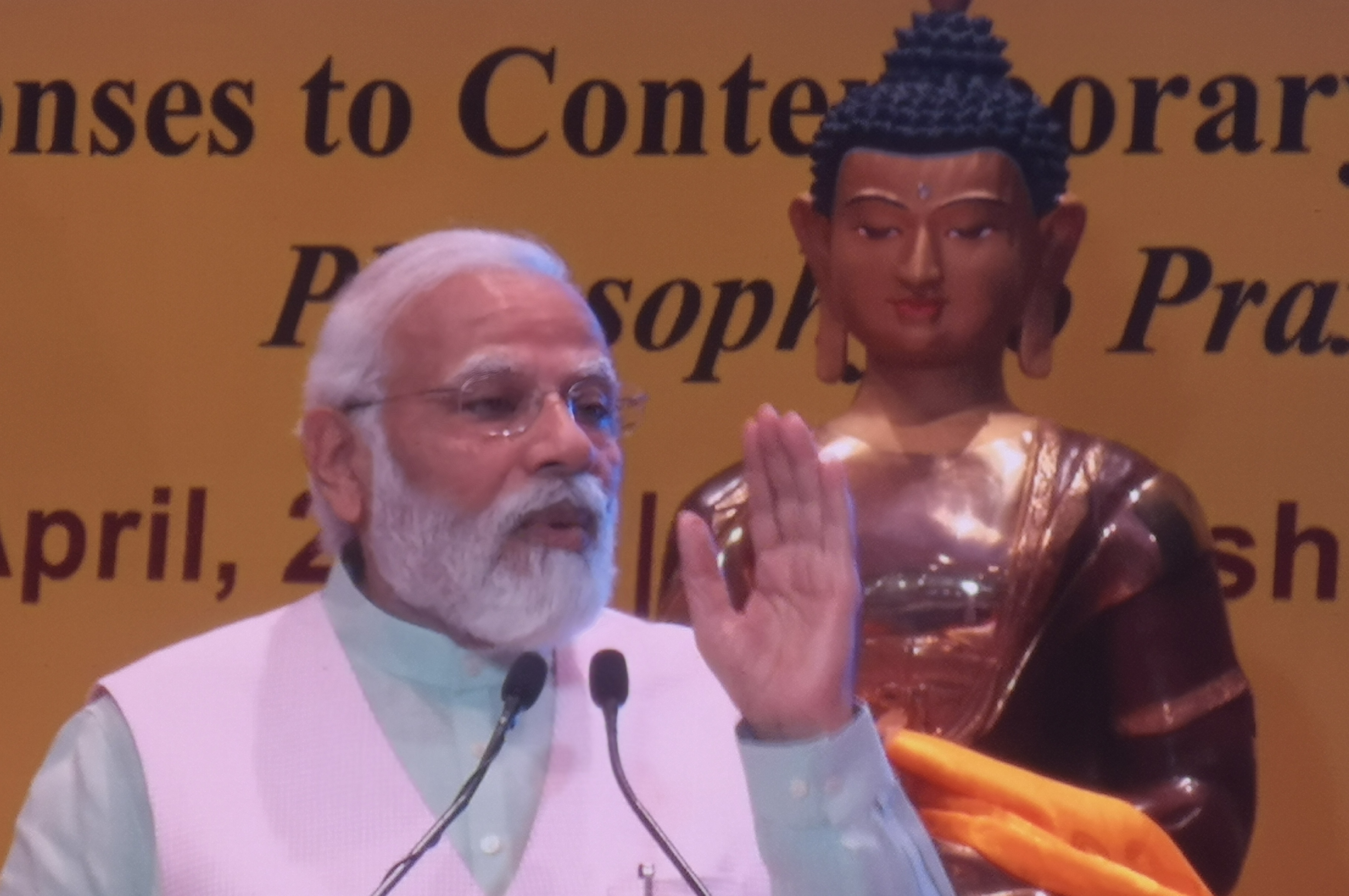 The Summit is themed "Responses to Contemporary Challenges: Philosophy to Praxis," and the discussion explores how the Buddha Dhamma's fundamental values can provide inspiration and guidance in contemporary settings. The event is attended by eminent scholars, Sangha leaders and Dharma practitioners from all over the world.

The Prime Minister walked through the photo exhibition and offered flowers to the Buddha statue. He also offered monk robes (Chivar Dana) to nineteen eminent monks. Union Minister for Culture, Shri G Kishan Reddy, Union Minister for Law and Justice, Shri Kiren Rijiju, Union Ministers of State for Culture, Shri Arjun Ram Meghwal and Smt Meenakshi Lekhi, and Secretary General of International Buddhist Confederation, Dr Dhammapiya were present on occasion.

The Prime Minister credited the teachings of the Buddha for the inherent empathy in India with regards to humanitarian issues. He mentioned peace missions and India's whole-hearted efforts in rescue work for disasters like the earthquake in Turkiye. Platforms like IBC, he continued, are giving the opportunity to like-minded and like-hearted countries to spread Buddha Dhamma and peace.

In a speech which was delivered off the cuff in Hindi, Prime Minister Modi showed his dedication and keeness in sharing India's ongoing efforts towards preserving Buddhist heritage sites in the country and establishing centers of Buddhist learning and research. He also emphasized the importance of promoting values such as compassion, non-violence, and peaceful co-existence, which are at the core of Buddhism, to address global challenges and create a better world for future generations.

"The noble teachings of Gautam Buddha have impacted countless people over centuries. Inspired by the teachings of Lord Buddha, India is taking new initiatives for global welfare," said PM Modi at the summit.

The government sees this as an excellent opportunity to develop its "soft power" by embracing positive values of Buddhism. With it's image as a rising world superpower, India also has the advantage of being the land of the Buddha. These are advantages which other prominent Buddhist countries such as Thailand and Sri Lanka do not have.

About 170 International Delegates from more than 30 different countries of the world are participating in this Global Buddhist Summit, which will discuss topics like Buddha, Dharma and Peace, the environmental crisis, preservation of the Nalanda tradition and Buddhist pilgrimage. The Global Buddhist Summit is an initiative of the Modi government, and it will help in strengthening cultural and diplomatic relations with the world.

Click here to access full text of PM Modi's speech.