Stupa stupor
by VRINDA GOPINATH, The Indian Express, June 18, 2005
The Great Sanchi Stupa gets less than 80,000 visitors a year. Little information, no souvenirs and few places to spend the night make the experience shortlived
SANCHI, India -- It is perhaps the world?s best kept secret. Such a secret, that the Great Sanchi Stupa, dating back to the third century BC, gets less than 80,000 visitors a year. An overwhelming number, 64,000 of them, are Indian. Most of the 14,000 foreigners are Sri Lankan Buddhist monks.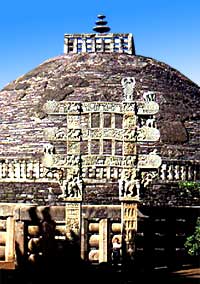 << Sanchi offers a wide and educative field for the study of the genesis, efflorescence and decay of Buddhist art and architecture, but is hampered by poor facilities for visitors
Moving inscriptions, heraldic figures, fine sculptures, detailed decorations that clutch its four gateways and numerous pillars ? this is a living museum of the Buddha?s many lives and multi-layered messages. Emperor Ashoka built it as the world?s first known peace monument, shortly after the bloody and life-altering Battle of Kalinga in 261 BC.
Yet, 70 km from Bhopal, tucked away in the heart of India, Sanchi gets so few visitors. Angkor Wat attracts half a million tourists a year, Luxor, Egypt?s sanctuary of kings, 50,000 a day in peak season. Sanchi has far humbler numbers.
It?s a pity, because Sanchi is also the location for many innovations by its site manager, the Archaeological Survey of India (ASI). The solar-powered ticket kiosk is the ASI?s eco-tech showpiece. The neat and uncluttered walkway ambles upto the gates of the Great Stupa.
The grounds of the Stupa offer three water coolers, discreetly arranged. The walkway is swept clean and flanked by flower shrubs and fruit trees. There is more ? cool stone benches under shady trees, two clean toilets, a fenced-in ??Lunch Pad?? for picknickers, a glass and chrome gallery for publications and books, display boards in front of every significant structure.
That?s the good news. The bad news is utilities can as easily become futilities. The car park is completely ad hoc, admit ASI officials. It is not a designated area and, during season, touts demand a king?s ransom ? compared to the modest Rs 10 for entry of cars ? to guard and park vehicles. There is no cafetaria or restaurant on the hill leading up to the Stupa. The display boards are in Hindi. There are no pamphlets provided to ticket-buyers to explain the intricacies of Sanchi.
Naturally, it is a gaping Yoshiro Okazaki, 29, a Japanese engineer, who stood before the ancient Stupa, wonderstruck and staggered, yet unaware of the significance the monument. ??The sculptures and pillars are so rare and individualistic,?? he said, ??it?s something I never imagined finding here.??
But Okazaki was none the wiser after spending several hours gazing at the stupa and other scattered relics. Neither his Japanese guidebook nor the India Tourist Office in Tokyo gave him anything beyond basic information on the Sanchi Stupa, its art, history and aesthetics.
??I just happened to stop in Bhopal to meet a friend,?? Okazaki explained, ??and decided to visit Sanchi because I?d heard of it. I wish I knew what was in store because I would have spent a couple of days here.?? It?s a common tourist complaint. Sanchi certainly requires greater publicity.
Other than informative pamphlets and brochures, another shortcoming at Sanchi is the absence of souvenir shops. Since the number of quality tourists is so small, the market hasn?t found it worth its while to move in. It?s a vicious circle ? low numbers lead to minimal add-ons, which lead to low numbers. As Ashwini Lohani, MD, Madhya Pradesh Tourism, says, ??It?s a chicken and egg situation. With no hotels in Sanchi, no one stops here for the night. We are trying to rectify this with our new gateway resort at Sanchi and hopefully, people will stay on.??
Remarkably the monument itself seems in order. K.K. Mohammed, ASI archaelogist in Sanchi, said, ??In the past few decades, ASI, like UNESCO, has been mainly conserving and still excavating at the site rather than restoring the monument. Also, as a world heritage site, the convention does not give us much liberty either. Most of the major restoration was done in the early 20th century by the British.?? Pity they didn?t build the rest of the tourist infrastructure.
Sanchi: Summary of deficiencies
Located 70 km from Bhopal, Sanchi has too little to take up a whole tourist day. It has no restaurants, cafes, shopping to take the story further. As such, it attracts mainly picnic groups from big city, Bhopal
Needs better publicity and perhaps needs to be marketed as a MP package, with Khajuraho. An innovative air-link and a stopover for all major trains to Bhopal is necessary
This is the lost cousin of the Buddhist circuit. Sarnath in Uttar Pradesh, Bodhgaya and Nalanda in Bihar draw many more. Sanchi is too out-of-mind to be seen as an add-on
Ticket buyers are provided no literature, no free brochures. Sanchi is allegory in stone ? inscriptions, Ashokan symbolism, sculptures, yakshinis and goblins, do not speak or convey anything. Tourists need translation