Scientists save Bodh Gaya's holy Buddhist tree
By Imran Khan, New kerala, July 6, 2005
Patna, India -- Scientists have saved a tree in Bihar's Bodh Gaya town - where the Buddha attained enlightenment 2,500 years ago - from infection, disease and pollution.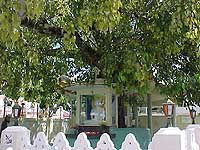 << Successful rehabilation of the 110 years old Bodhi Tree
The 110-year-old Bodhi tree behind the Mahabodhi temple, which grew from the original banyan tree under which the Buddha attained enlightenment, has seen new leaves after three years.
"Experts treated the tree for three years using various measures," Anil Kumar Singh, regional director at the Agriculture Research Centre here, told IANS.
According to scientists at the centre, the tree bore new leaves after three years. The bark has also regained its original colour, which indicates good health.
The tree was attacked by milibug disease five years ago. An alarm was raised by the Mahabodhi Temple Management Committee when the leaves started turning black.
Thousands of Buddhist pilgrims from across the world carry back leaves from the tree.
Following reports in the media in Japan, organisations from the country came forward to help. A study and laboratory tests warned that the tree would die if steps to protect it were not taken immediately.
To begin with, the burning of oil lamps near the tree was banned and a lamp house constructed. The water level in the roots was maintained and pesticides were used.
According to the scientists, carbon monoxide emitted from the oil lamps lit near the tree had formed a thin layer on its leaves, making photosynthesis difficult.
An official of the Mahabodhi Temple, which the Unesco has declared a World Heritage Site, said the Bodhi tree is the sixth regeneration of the original banyan tree.
Emperor Asoka, a Hindu who converted to Buddhism, had a railing built around the Mahabodhi tree to protect it.
A branch of the tree taken to Sri Lanka continues to flourish in Anuradhapura. A sapling from that tree was brought back to Bodh Gaya, where it is growing.