Dalai Lama begins discourse for Taiwanese Buddhists
ANI, July 12, 2005
Dharamshala, India -- Nearly 600 Taiwanese Buddhists began to attend special religious sermons by Tibetan spiritual leader, the Dalai Lama, here today. The Tibetan government-in-exile is headquartered in Dharamsala.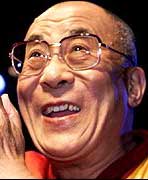 The ten-day discourse is also being attended by hundreds of other Buddhists including Tibetan monks and foreigners. The Dalai Lama would preach on the great Buddhist Lama Tsong Khapa "Lamrim Dringpo" and on the stages of the path to enlightenment.
Taiwanese Buddhists attending the discourse said their aim was to spread Tibetan Buddhism as far and wide as possible.
"The importance of this group is that we want Tibetan Buddhism to pass on to as many as possible, as complete as possible, to benefit even more people, even those in China, that's how I see the importance of this," said Chin Lee.
The Dalai Lama began the annual discourses in Tibetan language ten years ago on the request of a Taiwanese Buddhist Master Cheng. The Tibetans-in-exile have been expecting that Tibet might be granted autonomy akin to that given to Hong Kong and Macao under the contentious "one country, two systems" formula.
Tibetans believe that Beijing would seriously note their yearnings for autonomy to Tibet.China recently, in a white paper, urged the Dalai Lama to abandon his vision of an autonomous Tibet, squeezing the slim hopes of a political solution that might allow the exiled spiritual leader to return to hishomeland.
The Dalai Lama wields considerable influence over Buddhists in Taiwan, an independent small island off the coast of mainland China which Beijing claims as its own.
The spiritual leader who won the Nobel Peace Prize in 1989 for his non-violent campaign to gain autonomy for his homeland, maintains that there should be a referendum of the Tibetan people to decide their own future.
The Dalai Lama has lived in Dharamsala with thousands of his followers since a failed uprising against Chinese rule in 1959. About 134,000 Tibetans live in exile, the vast majority in India or Nepal, and of them less than half were born in their homeland.