China Plots to Repeat Panchen Lama on Dalai Lama
Phayul, July 19, 2005
Dharamshala, India -- In its latest and most serious ever attempt to interfere in Tibet's traditional system of recognising lamas, China has gone to the extent of saying that Beijing will choose the next Dalai Lama. Tibet Autonomous Region chairman Qiangba Puncog was quoted by Asianews/SCMP as saying that "if the spiritual leader, who turned 70 on July 6, dies in exile, Beijing would follow Tibetan Buddhist precedent to choose his reincarnation."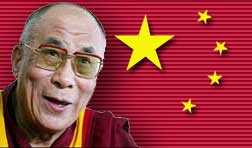 ?The choice has never been arranged by the Chinese Communist Party, but by the traditional rules of Tibetan Buddhism since the Qing dynasty (i.e. since 1644),? he said at a press conference. But a precedent was set in 1995 when Beijing rejected the Dalai Lama?s choice of Gedhun Choekyi Nyima as the 11th Panchen Lama and installed instead Gyaltsen Norbu, added puncog, a Tibetan by birth.
The Tibetan government based in Dharamshala, however, has not yet reacted to Puncog's statement. China justified the move by invoking an 18th century practice that involves picking a name out of three inserted in a golden urn preserved in the Yunghegong (Lama Temple) in Beijing, the Asianews/SCMP reported.
Qiangba repeated the same old rhetoric that 'the Dalai Lama?who fled Tibet in 1959 finding refuge in India?will not be allowed to come home' unless he abandoned his struggle for independence. The exile Tibetan government headed by the Dalai Lama has repeatedly said that it seeks genuine autonomy for Tibet within the framework of the People's Republic of China. Dharamshala has long renounced its demand of independence.
The Kalon Tripa of the exile Tibetan administration has expressed hopes that the issue of Tibet will be resolved during the Dalai Lama's lifetime. He said on the 70th birthday of the Dalai Lama that the Tibetan spritual leader was not a problem but the key to the whole issue.