Tourist?s nirvana: Buddha Mahotsav plans afoot
Newind Press, Aug 3, 2005
BHUBANESWAR, India -- In an attempt to promote Orissa as an attractive destination for Buddhist pilgrims and tourists from the South-East Asian countries, Orissa Tourism has drawn up an ambitious action plan. It includes an annual Buddha Mahotsav slated to be hosted at the historic Dhauli hills and the Buddhist circuit of Ratnagiri-Lalitgiri-Udaygiri during December this year.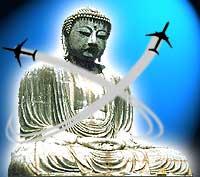 Tourism Director and OTDC Managing Director S K Sarangi told this website?s newspaper that Orissa has as much potential as Lumbini, Saranath and Bodhgaya to attract the large chunk of Buddhist population visiting India and Nepal. While Dhauli continues to draw such travellers, recent excavations in and around the Langudi hills have proved to be added attractions for them, he pointed out.
The three-day first annual Buddha festival will kick off at the Dhauli hills on December 9 and the next two days will witness several events at the Buddhist triangle of Ratnagiri, Sarangi stated. While seminars on Buddhism have been planned at both venues, exclusive exhibition of photographs and a painting competition-both based on theme of Buddhism-will be held.
Cultural programmes being planned for each evening during the event will also be based on the life and philosophy of Buddha, the director disclosed. Troupes from South-East Asian countries will be invited to perform along with local troupes to give the event an international flavour, Sarangi said adding his department is in touch with Indian Airlines and Thai Airlines to sponsor their trips.
The department has roped in Kolkata-based Nirvan Tours and Travel that deals exclusively with Buddhist tourists and pilgrims, to collaborate in the event. The agency will chalk out a strategy to get the maximum number of tourists for the event, Sarangi revealed.
OTDC will conduct package tours during the period from Puri and the State Capital for the festival sites to help people witness it, informed Sarangi. Plans are also afoot to send the visiting tourists to Buddhist villages of Maniabandha and Nuapatna in Cuttack district, he added.
Meanwhile a meeting of the senior officials of tourism, culture, State Archaeology and Archaeological Survey of India was organised here to work out the plan of action.
Among others, Rev K Yoda and Ms Matsunoto of the Dhauli Shanti Stupa, representatives of Nirvan Pilgrim Society Nirvan Tours and Orissa Buddhist Front attended.