16-state Buddhist tourist circuit in India soon
Indo-Asian News Service, August 14, 2005
New Delhi, India -- A Buddhist tourist circuit, partly funded by Japan, is being mapped across 16 Indian states to tap the growing interest among overseas travellers to visit places of religious and historical importance to Buddhism.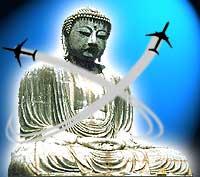 Three circuits in Uttar Pradesh - Lucknow-Awadh, Agra-Braj and Varanasi-Vindhya - have been identified for the first phase of this grand project that will also upgrade the hospitality infrastructure, Tourism Minister Renuka Choudhury said.
"We have sanctioned Rs 6.2 billion ($140 million) for Uttar Pradesh with fiscal assistance from Japan. Another project of Buddhist infrastructure has already been submitted to the Japanese government," Choudhury said.
"We are optimistic that Japan will clear our proposal and we, on our part, will do our best to showcase these Buddhist structures after developing the required infrastructure."
The minister said a detailed study of the existing infrastructure in these places was also in progress in all the 16 states identified for the programme.
"The team in charge of the study is looking into the available infrastructure and will come up with a detailed report on what needs to be done there," she said.
Among the states, Orissa, Andhra Pradesh, Karnataka, Bihar and Uttar Pradesh have been identified as major hubs, since they are home to a large number of Buddhist structures.
"Since a maximum of the Buddhist structures are in Orissa, Andhra Pradesh and Karnataka, we are trying to develop it as one circuit. This plan is ready and the cabinet will look at it soon," Chowdhury said. "We will then discuss the project with the Planning Commission to get the required funds."
After tasting success in destinations like Ajanta and Ellora in Maharashtra - famous for its cave paintings and frescoes - the tourism ministry has focused on Buddhist destinations all over India, said tourism secretary AK Misra.
"Investment, marketing and management of these tourist spots are the three main issues we are trying to address. We are also looking at inter-state circuits," Misra said adding the first will cover Orissa, Andhra Pradesh and Karnataka.
The Indian tourism industry earned record revenue of Rs.55 billion ($1.2 billion) last fiscal thanks to a record inflow of 3.3 million visitors from overseas.
While the inflow of tourists was up 27 per cent over the previous fiscal, the growth in terms of revenue was up 36 per cent, indicating the higher propensity to spend among international tourists coming to India.