Trouble at Mahabodhi temple
by FARHANA KALAM, The Telegraph, Aug 19, 2005
Gaya, India -- The district administration today foiled an attempt by a group of BJP leaders and activists to enter Mahabodhi Temple in Bodh Gaya and offer jal to a disputed shivalinga on the last day of Shravan.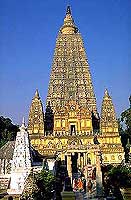 Ten BJP leaders, including former MLA Prem Kumar, were taken into custody in this connection.
Confirming the incident, district magistrate Chaitanya Prasad said the arrests were made in order to maintain peace in the Buddhist shrine and its vicinity.
While the management of the shrine has been a matter of controversy for years, this was the first time an attempt was made to perform jal abhishek at what some claimed to be a shivalinga. There are others, however, who believe that the disputed object was a broken part of a pedestal that once accommodated a statue of Lord Buddha.
At the time of being taken into custody, Kumar said he only wanted to reaffirm his belief in Lord Buddha being an incarnation of Lord Vishnu.
The shrine belongs to Hindus as well and by depriving him and others of the "right" to offer holy water on this auspicious day, the administration has done grave injustice, he alleged.
Hailing the decision of the administration, P.C. Roy, a neo-Buddhist, said Hinduism and Buddhism were two different beliefs and as such the claim of Buddha being a Vishnu incarnation was not acceptable to people like him.
He challenged the BJP to ensure Buddhist participation in the management of Hindu shrines in the country, including the Vishnupad temple of Gaya, before staking claim over the Buddhist shrine in Bodh Gaya. The BJP action was provocative, he contended.
Distancing itself from the incident, the VHP said the organisation had nothing to do with the jal abhishek.
The administration has taken the necessary steps to maintain law and order and prevent the situation from turning ugly in the wake of today's incident.
Besides cordoning off the temple area, a riot control vehicle was stationed in Bodh Gaya.