India: Uttar Pradesh to celebrate Lord Buddha's 2550th birth anniversary
Webindia123.com, September 28, 2005
Agra, India -- After the much-hyped 350th year celebrations of the Taj Mahal, that concluded here last evening, the Uttar Pradesh government is set to celebrate the 2550th birth anniversary of Lord Buddha next year.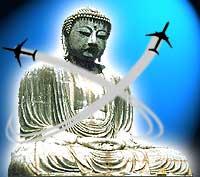 The state tourism department is mulling holding the programme at either Sarnath or Kushinagar. A high-level team led by state tourism minister Kokab Hamid is visiting South Korea this week to hold talks in this regard.
Before leaving for Malaysia and South Korea today, the minister told UNI here the state government was laying the ground work for the big event likely to take place next year.
''We will seek financial assistance from Japan, South Korea and other Buddhist nations and even seek their suggestions for putting together the show,'' the minister informed.
He said UP boasted of two likely spots to celebrate the mega event -- Kushinagar, where Buddha breathed his last and Sarnath, where the Lord delivered his maiden sermon.
Gautam Buddha was born as a prince in 544 BC at Lumbini, now in Nepal on a Full Moon day in the month of Baisakh.
On his birth, it was predicted that the child would redeem the world. Even as a young prince, he was touched by the pain and miseries of others. Later, he renounced the world and became an ascetic.
At the age of 35, he attained enlightenment on the full moon day of Baisakh. He travelled far and wide preaching and gained a large following consisting of scholars, sages, kings and commoners, thus forming the Buddhist community.
Meanwhile, Mr Hamid will also attend the annual function of the Princess of Ayodhya in South Korea, where he has been invited as a special guest.
During his eight-day foreign tour, he would attend the tourism mart in Malaysia where UP Tourism is putting up its stall to attract international tourists to spots like Agra, Sarnath, Kashi, among others.