Amaravati awakens to Kalachakra
The Asian Age, Nov 22, 2005
Amaravati, Guntur (India) -- There is a buzz in the sleepy village of Amaravati in Guntur where the Buddhist summit Kalachakra is to be held in January.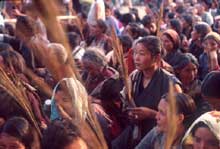 Monks in maroon robes are a common sight in the area these days and local people try to have conversations, mostly in sign language, with them. They are also in awe of the 120-foot Buddha statue in the making at Dharanikota, which is to be inaugurated by the Dalai Lama during the summit.
Amaravati is a holy land for Buddhists. It is closely associated with Shri Dhanyakataka, a Buddhist scripture. It is believed that Buddha first revealed Kalachakra, a spiritual practice belonging to the highest yoga tantras, in Amaravati. It was also the place where Emperor Ashoka laid the foundation stone for a Buddhist stupa in third century BC. The first stupa was built here to enshrine the relics of the Buddha after he was cremated.
The Mahayana sect also believes that Acharya Nagarjuna, a Buddhist monk hailing from this region, introduced the tradition of building domes on the relics called Chaitya.
"It is the 30th Kalachakra which is being held here," says Tananga of Norbulinga Institute from Dharamsala, which is taking care of the arrangements.
"The authorities have allotted us 16.76 acres as teaching ground, in which the Dalai Lama will sit facing the Buddha statue on the west side."
---
Official Website: http://www.kalachakra2006.com/
---
A city of tents is also being erected near the teaching site for the monks, apart from a kitchen. The state government is providing all help for the summit and has allotted Rs 52 crores for the purpose.
Officials are busy with the widening of roads and betterment of infrastructure facilities, including provision of electricity and drinking water. It is estimated that more than 1,20,000 people will take part in the summit. A team of more than 40 talented sculptors is working hard to carve out the massive sculpture of Buddha. "This is named after Dhyana Buddha Vihar, where Buddha sits in a meditation mode," says J. Uday Bhaskar, the mandal revenue officer.
"The pillars were dug very deep in the soil in order to support the statue. This will become a permanent spot in the Buddhist tourism circuit." Local people have also pitched in and agreed to play host to visitors who are not able to find accommodation.