Mahabodhi tree, temple under threat
By Amlan Home Chowdhury, Mid-Day (India), November 15, 2004
Bodh Gaya, India -- Carbon monoxide (CO) is threatening the existence of the two supreme symbols of Buddhism. The thousands of earthen-cum-metallic lamps, candles and incense sticks burning around the Bo tree under which the Buddha attained enlightenment at Bodh Gaya and within the premises of Mahabodhi Mahavihara are under threat from the poisonous gas.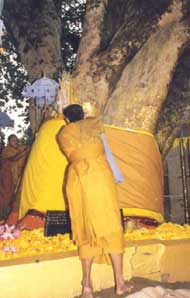 Monks from 30 nations have vowed to globalise the issue forcing even world leaders to come to the rescue of the two supreme symbols of their religion.
They will be approaching all South East Asian nations, USA, China and most European nations to help their cause.
Recently, the Archaeological Survey of India (ASI) treated the 2600-year-old temple with chemical washing to minimise the effect of the gas, at a cost of Rs six lakh.
According to Sri Lankan monk Bhante Muninda Vamsa of the Vishwa Buddha Sangha Youth, this tiny city where Buddha found ?bodhi? or supreme knowledge is poised to become the world?s first patch of land to fight against CO.
During her recent visit here, Sri Lankan President Chandrika Kumaratunga had also said her country would participate in the war against CO.
The Mahabodhi Mahavihara?s management committee has also banned burning of candles or lamps around the Muchalinda Lake as an anti-pollution drive; from this lake, the legendary serpent King Muchalinda rose up to cover Lord Buddha with its hood to save him from the violent storm raised by the god of chaos, Mara.

Trouble-torn tree
? The carbon monoxide emitted from oil lamps form a thin layer on the leaves, making it difficult for them to photosynthesise.
? The leaves of the holy tree turned black in June 2002.
? The tree is also suffering from the milibug disease ? an insect which slowly kills trees