Tibetan nuns to receive Doctorate in Buddhism
Phayul, December 8, 2005
Dharamshala, India -- Tibetan nuns may soon receive doctorate in Buddhism and be called Geshema, a practice that was non-existent until now. His Holiness the Dalai Lama said that talks are going on with the Department of religion to start honoring Buddhist nuns with the highest academic achievement in Buddhist studies.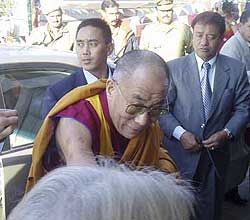 << His Holiness the Dalai Lama arrives at the Dolma Ling nunnery, phayul photo, Dec 8, 2005
His Holiness the Dalai Lama also said that Buddha himself worked for equality of gender in India at a time when women were much discriminated.
His Holiness the Dalai Lama was speaking at a function at Dolma Ling nunnery, which was inaugurated and blessed today. "Buddhism is the only thing that we can boast of, what else do we have? Nothing."
His Holiness also said that Buddhism benefits not only the Buddhists but also the world at large. "More and more people today show keen interest in Buddhism and its theories of causality, compassion and kindness."
Emphasizing the importance of religion, he said that the number of people embracing Buddhism and Christianity in China and Russia, which for decades forced people to think that religion was a poison, is on the rise.
His Holiness said that just eating tsampa or leading a nomad's life can not represent the Tibetan culture as a whole. "Tibetan Buddhism and habits that emanate from it can truly represent the Tibetan culture as a whole", His Holiness said.
"Buddhism can really help us imbibe a sense of non-violence and compassionate mind thus making us more capable of resolving our issue amicably."
His Holiness stated that Tibetans have not been able to preserve the Buddhist tradition as effeciently as the great Indian scholars of Nalanda University. "I doubt if we have been able to preserve the rich tradition of Buddhism by merely wearing some ritualistic hat and chiming some bell, we must strive to preserve it as done by Nalanda's great scholars."
Building a monastery, a temple and having some monks or nuns study in it, His Holiness said, is not the real practice, which must come from the true practice of the Dharma. While appreciating the works of Dolma Ling nunnery, His Holiness said that the nuns must devote themselves to study Buddhism and practice genuinely.
His Holiness also said that monks and nuns, by virtue of their studying Buddhism, should be a bit different from the ordinary lay people in their attitude, behavior and beliefs about desire, anger and ignorance.
His Holiness also said that material development alone can not bring happiness but should be combined with the overall development of one's mind and behavior.
His Holiness also met with a huge group of Tibetans who had arrived from Tibet on pilgrimage, and to attend the Amaravati Kalachakra. The Tibetans were given a separate audience at the courtyard of the nunnery. His Holiness told them that they should preserve the Tibetan language and that studying Chinese is also important. "I appreciate many Tibetans in Tibet coming out with good literary works and achievements in other academic fields as well. That's very good."
"You have traveled so much to reach India, but be careful not to fall sick during your stay or else it would be like coming here to suffer."