www.DalaiLama.com
Phayul, December 11, 2005
Dharamshala, India -- Information technology is fast spreading its influence across the world and equally fast is the increase in the number of admirers of the 70-year Tibetan leader, the Dalai Lama. Admirers and followers of the Dalai Lama take as blessings even a smile of the Dalai Lama, or just a glimpse of the leader passing through a throng of followers who with their eyes closed and hands folded gesture as if to pray.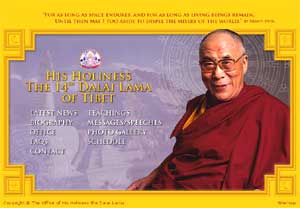 And now the charismatic Buddhist master has made it easier for people to be blessed but in a different way, e-blessing. The office of the Dalai Lama launched a website www.dalailama.com yesterday on the occasion of the 16th anniversary of the conferment of Nobel Peace prize on the Dalai Lama.
The website features information on the Dalai Lama's teaching dates, speeches, meetings with dignitaries, life in exile, photo gallery, contact details and news.
"The website is not to promote the Dalai Lama himself. It is to reach out to the world with his message of love, peace and compassion and universal responsibility," an AFP report quoted a member of the website developer as saying.
The domain name was donated by JCROWS.COM to the Tibetan government in 1999. Another domain name panchenlama.com which is not yet operational was also donated to the Tibetan government by the company.
JCROWS.COM had 'realized the potential value of the domains as yet unregistered top-level domain name to the Tibetan government in 1999.
In order to protect them from unauthorized use, the domain names were parked under the moniker 'The Help Free Tibet From Chinese Occupation Club' after registering them in 1996.