Dalai Lama set to take Kalachakra to new spiritual heights
by Chandrasekhar, Budsiness-Standard, December 27, 2005
Amaravathi, India -- The 13-day Kalachakra-2006 ceremony, beginning here on January 5, is all set to become a Tibetan tantrik Buddhist show and a great spiritual event as the sect leader, the Dalai Lama, is coming to take part in the ceremony.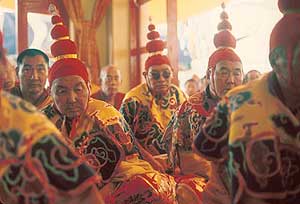 Interestingly, the Norbulingka Institute, a cultural body of the Central Tibetan Administration (Dharmasala), led by the Dalai Lama, is organising the event at the request of Busshokai Centre, a small Japanese group of Kanazawa.

Over one lakh (10,000) foreign visitors, including several world leaders and VVIPs, are expected to descend on the Kalachakra site, being readied on the banks of the Krishna river at Amaravathi, situated 26 km from Guntur.

Vijay Mohan, special officer, Kalachakra-2006, told Business Standard that the state government was spending Rs 52 crore to provide basic infrastructure, including roads, water, drainage, accommodation, electricity, street lights, sanitation and transport for the convenience of visitors. The work on a Rs 60-lakh, 125-ft Buddha statue is also nearing completion at the site.

Dhruv C Sud, an architect from Norbulingka Institute, who is overseeing the arrangements, said that about 60,000 to 80,000 Buddhists would stay in the camp to receive initiation into Kalachakra tantra apart from an estimated 50,000 floating tourists.
---
For more info, visit: www.kalachakra2006.com
---
A majority of Buddhists are expected to come from Tibet, Japan, Taiwan, Korea, Singapore, Malaysia and Mangolia. A sizeable adherents of the religion will also come from as far as the US and Europe. The institute is spending Rs 3 crore on the spiritual event, the 30th one to be presided over by the Dalai Lama.

He said, "Kalachakra belongs to the highest yoga tantra, first taught by the Buddha on the 15th day of the third month in the year following his enlightenment under the Bodhi tree. The Buddha taught perfection of wisdom simultaneously in a Kashmiri kingdom and at Shri Dhanyakataka, now called Amaravathi (Palden Drepung in Tibetan). King Suchandra of mythical Shambala kingdom in Kashmir, who was one of the disciples, compiled the Buddha's Kalachakra teachings in 12,000 verses and later wrote a commentary of 96,000 verses on them."

Dhruv Sud said the present Dalai Lama, who had been initiated into Kalachakra by his guru Ling Rinpoche, himself began to initiate his followers into Kalachakra in 1954. He would do the same for the 30th time at Amaravathi during the ceremony.

He said Kalachakra-2006 would begin with the preparation of Kalachakra ritual from January 5-7, followed by construction of mandala on January 7.

Aspirants would be taught preliminaries from January 8 to 10. Kalachakra ritual and offering dance would take place on January 11. Kalachakra empowerment with the Dalai Lama taking lead in the initiation would begin from January 13-15. The mandala would be dismantled on January 16, marking the end of the summit.