Dalai Lama rejects Tibetan Buddhist praise of China
By Terry Friel, Reuters, Dec 28, 2005
DHARAMSALA, India -- The Dalai Lama said on Wednesday the most senior Buddhist in Tibet had obviously wanted to please Chinese authorities by praising Tibet for its political stability and prosperity.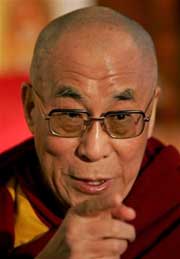 << Tibetan spiritual leader Dalai Lama gestures during his interview with Reuters in Dharamsala in the northern Indian state of Himachal Pradesh December 28, 2005. The Dalai Lama said on Wednesday the most senior Buddhist in Tibet had obviously wanted to please Chinese authorities by praising Tibet for its political stability and prosperity. (Adnan Abidi/Reuters)
In an interview with Reuters, the 71-year-old Nobel Laureate painted a very different picture of Tibet saying that torture and human rights abuses were still the norm.
The Dalai Lama, the head of Tibetan Buddhism and its political struggle, said he was saddened by reports monks had been killed and tortured by Chinese authorities for refusing to denounce him as a "separator" bent on damaging China.
"I had stressed if they have to denounce me then please denounce me -- no problem," he said firmly in his palace beneath snow-tipped Himalayan peaks in northern India.
"Their safety is more important. Just please denounce me," he said, wearing traditional Buddhist purple robes.
The Beijing-sanctioned 11th Panchen Lama, Gedhun Choekyi Nyima, now 16 and who along with his parents is under China's protection, said in a rare interview with China's Xinhua news agency a few days ago that Tibet was open and happy.
"I've been to many places in the past decade and witnessed the ample freedom enjoyed by individuals and religious organisations alike. Living Budhhas like myself are able to perform religious rituals under the wing of the Chinese constitution and other laws," he said, according to Xinhua.
The Panchen Lama is the second most senior post in Tibet's main Gelugpa Buddhist sect after the Dalai Lama.
Before the young boy was chosen, the Chinese government removed another Panchen Lama who was chosen with the approval of the Dalai Lama -- the exiled Tibet leader whom China calls a traitorous separatist.
Many of Tibet's people remain secretly loyal to the Dalai Lama's chosen Panchen Lama.
The young Panchen Lama's comments were rejected by the Dalai Lama and exiled supporters of Tibetan autonomy. Some say the teenager is a political prisoner.
"So, obviously the Panchen Lama has to speak what his superiors want," said the Dalai Lama. "It is very difficult."
Dalai Lama pursues peaceful path
Analysts say the fact the young Panchen Lama was moved from Beijing to a town in Tibet and was allowed to speak publicly was a sign Beijing wants him to be heard more by Tibetans, possibly as a counter to the Dalai Lama.
The 11th Panchen Lama has led a tightly controlled and largely reclusive life since the Chinese government confirmed him in that role in 1995.
The Dalai Lama, who has widespread support from world leaders to Hollywood stars, says he faces increasing criticism from his own people over his peaceful push for more autonomy instead of fighting China for full independence.
"Criticism about my approach, not seeking separation, is growing, increasing and my response to them is be patient. More patience, more patience," he said. "Otherwise, we have nothing to show them a positive result from our approach. So we find it more and more difficult to answer them."
Tibetan politicians and activists in exile say their youths are frustrated. Some want violence, remembering what they see as the glory of Tibet's guerrilla war against China four decades ago.
"Definitely we have a huge section of the Tibetan youth community which believes that our movement is like any other movement in this world," said Tibetan youth Congress president Kalsang Phuntsok Gordukpa, 42.
"You know, there is no reason for us to restrain ourselves just because we are Buddhist or just because we have a leader of His Holiness's (the Dalai Lama's) stature.
"For Tibetans as such, violence is something we cannot normally think of. But we have again a youth section which is not so much influenced by the Buddhist philosophy. They are very much attracted by the movements which are going on all over the world -- mostly violence-infested movements and people see they are achieving results.
"They look around everywhere, whether it's Israel or Palestine or the Middle East -- these give them every reason to believe in every (violent) movement that is being waged on this Earth."
Young Tibetans are also looking at the country's own warrior past, exiles say.
Thupten Phelgye, a 50-year-old monk who spent five years alone meditating on a mountain and who is now a member of the parliament in exile, is concerned.
"If, in the future, something goes wrong, then we are not responsible," he said. "We cannot guarantee this policy of the (peaceful) middle way will be here forever."