Land of Nagarjuna reliving the forgotten period of glory
WebIndia123, January 4, 2006
Amaravathi, Andhra Pradesh (India) -- The most important event that happened due to the ensuing Kalachakra confluence was the consecration of the giant monolithic statue of Lord Buddha in the Hussain Sagar Lake by the Buddhist spiritual leader Dalai Lama a couple of days ago.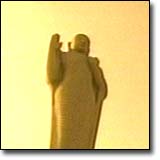 The statue erected in 1992 was so far not consecrated due to sentimental reasons. According to belief, a statue would remain a statue and not become an idol, if not consecrated. however everyone who attempted it faced unforeseen problems.
Actor-turned-politician N T Rama Rao soon after becoming the Chief Minister of Andhra Pradesh thought of erecting the statue in the lake to make Hyderabad a great Buddhist pilgrimage.
The late Rama Rao entrusted the job to Ganapati Sthapati. The great sculptor selected a hill in Rayagiri in Nalgonda district. The particular stone was selected firstly as it was best suited to sculpt the gigantic statue and secondly as the place was very near Hyderabad to facilitate transportation of the statue to the destination.
The hill was carved into a seventeen-metre monolithic statue. But the man who thought of erecting the statue of Thadhagatha lost power before the statue could be erected. Another strange coincidence was that 'Buddham Ashokam' the film made by the great thespian on Lord Buddha whom he venerated, was a miserable flop and a commercial disaster.
When Congress came back to power after N T Rama Rao was rejected by the people, tragedy struck as Chief Minister M Chenna Reddy tried to erect the statue. The statue slipped into the Hussain Sagar lake while being ferried to the Gibraltar rock on which it was to be erected. Some engineers were killed in the accident. It remained in water for long.
When the statue was finally installed, a controversy was raked up by some Buddhist monks that it was not fit for worship as in its vicinity the last rites of former Chief Minister N T Rama Rao were performed and a memorial was erected. Even the Dalai Lama did not consecrate it when he visited the state a few years ago. It was deemed ''dangerous'' to do anything about Buddha by all politicians.