Buddhist circuit to showcase heritage
Newindpress, January 11, 2006
AMARAVATI, Andhra Pradesh (India) -- The inauguration of The Amaravati Museum and Interpretation Centre by the Dalai Lama here yesterday is part of the State Government's ambitious plan to develop the Lower Krishna Valley Buddhist Circuit at a cost of Rs 20 crore.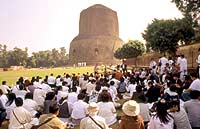 The circuit connecting ancient Buddhist sites – Amaravati, Nagarjunasagar, Chandavaram and Undavalli – is expected to enable the visiting tourists to feel the rich Buddhist heritage of the valley.
As even the Dalai Lama admitted that Buddhism spread far and wide from these places centuries ago, tourism officials are expecting it would be "The Destination" for the tourists from both India and the South East Asian countries.
While the Union Tourism Ministry granted Rs 3 crore for the museum, the State Government sanctioned a grant of Rs 1 crore, in addition to providing land.
AP Tourism Development Corporation regional manager S Suryaprakasa Rao said that they took up the project with two major components comprising a restaurant and a museum-cum-interpretation centre.
The restaurant christened Dhanyakataka would offer all types of cuisine, snacks and beverages.
The entire complex, including the museum building, is designed to facilitate visitors of all age groups and includes facilities for physically challenged persons. It also has washrooms, parking, seating, drinking water and a cloakroom.
The two-floored museum, commissioned by the State Department of Archaeology and Museums, will also house a sound-and-light show theatre. In the first floor, early history of Andhra Desa, history of Buddhism in AP, history of Amaravati monument or the Mahachaitya, the changing phases of Buddhism at the Mahachaitya and the Amaravati sculptures.
The first level also showcases 12 cognate sites of Amaravati art, which have yielded sculptures during excavations conducted by the Archaeological Department.
The second level will focus on the cultural material of the Buddhist sites and the influence of Amaravati art on South East Asian and South Asian countries and will be commissioned during the next six months.