Tibetan Medical Centre Celebrates 45th Anniversary
TibetNet, March 27, 2006
Dharamshala, India -- The Tibetan Medical and Astro Institute (TMAI) celebrated its 45th founding anniversary on 23 March 2006. The chief guest for the occasion was Mr. Tenpa C. Samkhar, Secretary for the Health Department of the Central Tibetan Administration.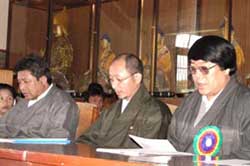 << From Left: Dr. Tsewang Tamdin, Assitant Director of the TMAI, Dr. Dawa, Director of the TMAI and Mr. Tenpa C. Samkhar, Health Secretary
The function began with an introductory speech by Dr. Dawa, director of the TMAI, followed by a prize distribution by the chief guest to the entire 13th and 14th medical batch students, the top three students of the 7th batch of the astrological study, the student with overall best performance and the boy and girl captains of the Tibetan Medical and Astro college.
During the ceremony those staff who served the institution for 20 years were presented with mementos as an appreciation for their service.
The Health Secretary acknowledged the success achieved by the TMAI in the last 45 years. He said that the Tibetan doctors bear the responsibility to preserve the traditional system of healing, which is closely related to the Buddhist culture.
He stressed on the precious guidance shown by the Medicine Buddha many hundred years ago and the responsibility of every Tibetan doctor to follow that path.
Present at the occasion were all the staff and students of the TMAI and other guest invitees. The function ended with a note of thanks by Dr. Tsewang Tamding, Assistant Director of the TMAI.
The TMAI has presently 49 branch clinics across the world. It provides free medical facilities to the new arrivals from Tibet, old people, students, monks and nuns.