City throbs with Buddhist chants
NT Bureau, Nov 22, 2004
The five- member group of Buddhists monks of Karyobingo Shomyo Research Group of Japan giving a lecture demonstration on the traditional Buddhist chant of Japan, 'Shomyo Chant', in Chennai yesterday.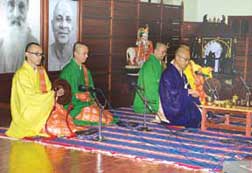 Chennai, India -- It was scene of total serenity and disposition of mind for those who were at the Chinmaya Heritage Centre, Chennai, yesterday.
The Adi Sankara Satsang Hall at the centre was full of calmness and composure as the five Buddhist monks of Karyobingo Research Group, Japan, gave a lecture-demonstration on 'Shomyo Chant', the traditional Buddhist chant of Japan.
The monks performed the chant in their own ritualistic manner which included purification with sacred water by the dooshi, offering of chant with Sanskrit hymn of the four wisdoms, Chinese hymn of the glory of the long life of the Buddha from Nirvana-sutra, Chinese hymn of the purification and adornment of the place of worship with falling flowers (artificial flowers made of paper) and many such ritualistic performances. Commenting on the Shomyo Chant, lecturer Arai Kojun noted that the Shomyo chant was originally transmitted along with Buddhism itself from India to China where new pieces were added to the repertoire and eventually to Japan. The word 'Shomyo' was referred to as sabda-vidya in Sanskrit, which was one of the five fields of academics study of ancient India, which dealt with the grammatical study of Sanskrit.
He also explained the differences and similarities between the Sanskrit hymns and the Japanese hymns in chanting and sounds. In an exchange of the cultural tradition of India, H H Swami Mitrananda of Chinmaya Mission gave a lecture on 'Taittiriya Upanishad'.
He said this was the last portion of the Vedas which was actually a conversation between a student and his master during which the student asks for enlightenment of knowledge and the master offers him the convocation address.
Mitrananda also explained the convocation address which was accompanied by the live chanting of the Upanishads by the members of the Chinmaya Yuva Kendra.