Dalai Lama asked to be Himachal's brand ambassador
Indo Asian News Service, April 4, 2006
Shimla, India -- Tibetan spiritual leader the Dalai Lama could soon be the brand ambassador of the hill state of Himachal Pradesh, state Tourism Minister G.S. Bali said here Tuesday.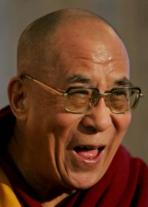 Bali, who met the Dalai Lama late Monday, said: 'This matter came up at my meeting with his holiness and he gave his nod.'
Bali met the Buddhist leader in Dharamsala town - the seat of the Tibetan government-in-exile, 280 km from here, in the state.
But while the Himachal Pradesh government maintains that the Noble peace prize winner is set to be its brand ambassador, the Tibetan government-in-exile hasn't so far responded on the matter.
Sources in the Tibetan government-in-exile confirmed that the matter did come up at the meeting Monday.
'Hoardings and brochures of the Himachal Pradesh tourism department will display pictures of the Dalai Lama urging foreign tourists to visit the hill state,' said Bali.
'But naturally the Dalai Lama cannot be a conventional brand ambassador as he is a spiritual leader,' he said.
Last year the state received 6.25 million tourists including 250,000 foreign tourists. But it still has a huge potential for more foreign tourists.
'In the course of the meeting, the Dalai Lama also expressed his concern at the deteriorating environment in and around Dharamsala. He said the snows on the overlooking Dhauladhar mountain ranges had considerably decreased in recent years,' Bali said.
Bali discussed the need for giving a facelift to Dharamsala town and improve its infrastructure, including roads leading to the Dalai Lama's house.
The issue had come up late last month in the state legislative assembly proceedings.
Kangra legislator Vijay Singh Mankotia (Congress), a former tourism minister, had told the house that popular Hollywood star Richard Gere had agreed to repair the winding pot-holed road leading to the Dalai Lama's house, provided the money was spent in a proper manner.
Chief Minister Virbhdara Singh has assured the house that the state government would repair the road. Gere is a Buddhist and a friend of the Dalai Lama. He is a frequent visitor to Dharamsala.
The Dalai Lama fled Tibet with the first wave of Tibetan refugees in 1959, after a failed coup against the communist Chinese regime. Over 100,000 Tibetan refugees live in India. The Tibetan government-in-exile isn't recognised by any country so far.