VHP regains lost ground in Bodh Gaya
by ABDUL QADIR, TIMES NEWS NETWORK, NOVEMBER 22, 2004
GAYA, India -- After more than 12 years, the VHP has regained its lost ground in Bodh Gaya, the seat of Buddha's enlightenment. The organisation suffered a setback when Gyan Jagat, the Mahabodhi Temple superior priest, mysteriously left Bodh Gaya in 1992. Gyan Jagat had been part of the VHP think-tank and a member of its Marg Darshak Mandal.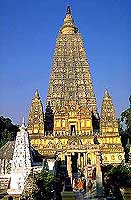 Gyan Jagat's departure was caused by the revelation made about his VHP connections, as, till then his VHP association was a close guarded secret. And ever since Gyan Jagat's departure, the VHP could not consolidate itself in Bodh Gaya.
Now that Bhupendra Kumar Modi has been elected as the president of the Mahabodhi Society, one of the most influential Buddhist organisations and the society's constitution has been amended, freeing it from the Sri Lankan yoke, the VHP finds itself in a vantage position in Bodh Gaya. As per the amended constitution of the Mahabodhi Society, the India chapter of the society has become an independent unit and it has no longer to depend on instructions received from the Colombo headquarters of the society.
As per Modi's bio-data released in Bodh Gaya, he has been the chairman of the overseas chapter of the Vishwa Hindu Parishad. During his interaction with mediapersons in Bodh Gaya on Saturday evening, Modi did not conceal his VHP connection. However, he made it clear that he did not favour militant Hinduism and a consensual approach was needed to resolve inter-religious conflicts and disputes.
There is another reason, too, why the VHP must be feeling happy with Modi in command of the Mahabodhi Society. For the last several years, conversions have regularly been taking place in Bodh Gaya and a significant number of Dalits from Bihar as well as other parts of the country, particularly Maharashtra, have embraced Buddhism at baptisation ceremonies conducted at the seat of Buddha's enlightenment. This year too, no less than 116 persons renounced Hinduism and embraced the Buddhist faith and mode of worship.
Though the VHP has been underplaying the conversions on the plea that Buddhism had no separate identity and it was part of the larger Hindu family, comprising all non-Muslims and non-Christians, the 22-point vow administered to the converts making them denounce deities formerly worshipped by them has been a major irritant.
Modi, the new president of the Mahabodhi Society, has been an active anti-conversion campaigner and he plans to organise a conference on conversions in the Sri Lankan capital, Colombo. During his interaction with mediapersons in Bodh Gaya, the former chairman of the VHP's overseas chapter was quite vocal in denouncing conversions and demanded amendment of chapter 18 of the UN charter. The UN charter recognises religious conversion as a fundamental right.