Big push for Bihar Buddhist circuit
by Maneesh Pandey, TIMES NEWS NETWORK, April 16, 2006
RAJGIR, India -- Those who thought Bihar and development do not gel, may have to rethink. Buddha has smiled on the state, finally. The Union tourism minister Ambika Soni's grand plans to develop the Buddhist circuit by laying world class road network, construct modern budget and higher-end hotels, facilitating direct rail links and air services to Bodh Gaya speaks of nothing, but turning of the wheel.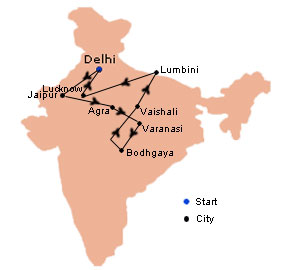 Soni, who visited Bodh Gaya, Rajgir, Nalanda along with a high-level official delegation, pressed upon the state machinery to augment the tourist infrastructure in the state.
"We must create a world class road network in Bihar linking Bodh Gaya, the seat of Buddha's enlightenment, to other historic sites related to his life. To begin with, the roads from Bodh Gaya to Rajgir to Nalanda to Vaishali must be of world class," the minister said.
This move to steer Bihar out of long spell of economic underdevelopment coincides with the current year celebrating 2,550 years of Buddha's Parinirvana and growing popularity of Bodh Gaya as a Unesco World Heritage Site.
Buddhist devotees from all over the world — a lot of them from Japan — visit Bodh Gaya anyway; a better infrastructure is expected to swell their numbers.
Unesco's director Minja Yang said: "Spiritually, the place has been very significant for whole of south-east Asia and over the time the nature of tourism has changed. Internationally, this circuit in Bihar has also become popular as seat of learning and for ancient texts."
Added Lajpat Rai of Lotus Travels accompanying the group: "The potential in this circuit is immense. Annually, the circuit receives about 3-3.5 lakh visitors, but it can touch 15 lakh visitors per year with world class infrastructure in place, lacking which most of them are diverted to Thailand, Cambodia and Sri Lanka."
While inspecting the Mahabodhi and Bodh Gaya temples, Soni said the airport has to be developed. "I will take up with the civil aviation minister the matter of the possibility of Indian airlines operating from Gaya and exploring possibilities of rail link via Chennai and Guwahati.
This year, we have to expedite the work to ensure that by the next Kalchakra Parv, Gaya becomes a well planned city," she added.
Amitabh Kant, joint secretary in ministry of tourism, said most of the Buddhist circuit generated markets catering to global travellers, for which we need a world class infrastructure. "We too need to develop that to drive the state and country's tourism with value and volume," he said.
The sense of urgency is not confined to the Centre. The state government too realises that having lost most of its industries and mineral resources after separation of Jharkhand, tourism is one sector that can fill its empty coffers again.
No wonder CM Nitish Kumar was more than eager to go along with Soni's ambitious plans for developing the Buddhist circuit.
But this Buddhist path of development is not without hiccups. The state requires at least 10,000 hotel rooms in peak season, but today it has only two hotels in star category in Bodh Gaya and one in Rajgir, forget any such in Nalanda and Vaishali, said Naresh Sharma of Hotel Indo Hokke at Rajgir.