Indian couple bike for a Tibetan cause
By Soma Mitra, New Kerala, April 24, 2006
Kolkata, India -- An Indian couple is on a motorbike journey from Kolkata to Charagiri in Orissa to campaign for the release of the Tibetan Buddhist monk--Panchem Lama-- and espousing the cause of Tibetan refugees.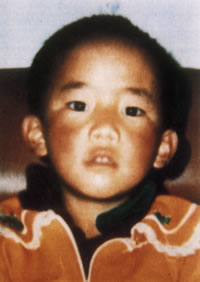 << Gedhun Choekyi Nyima, the 11th Panchen Lama. This image is the only public image of Gedhun Choekyi Nyima, taken in 1995 at age 6.
The couple--Tathagatha Chakraborty, the husband in his early forties and Swati, the wife, in her thirties, started their journey last Friday to support the demand of Tibetan refugees.
"We urge the release of Panchem Lama. The Tibetans in exile have a right to get back their Panchem Lama and His Holiness, the Panchem Lama should be free. He should get formal Buddhist religious education and be reinstated in the Buddhist Tashi Lunku monastery," said Tathagatha.
The couple's endeavour has received appreciation from the native Tibetan refugees.
Swati, the wife is optimist about the success of their endeavour, even if it has not got much support from many Indians. But she plans to draw attention of people around the world about issues related to Tibetans.
"If others come forward to help the Tibetan cause, it is a welcome. But we are out to do whatever we can to help the cause ourselves. We will organize different events across the world on different occasions to create awareness and raise the cause of the Tibetan refugees. If others come forward, it will be good. But we will keep on continuing our efforts irrespective of any possibility of others' support," said Swati, the wife.
Supporters carried posters reading--'Release Panchem Lama'---and lit candles. They also held posters of their foremost spiritual leader, the Dalai Lama.
And, today, after covering places like--Kharakpur, Ballasor, Markuna, Badrak, Bhubaneswar, Khurda, Chandpur, Chattarpur, Gunjam, Biarampur-the couple's motorbike journey is expected to conclude in Chandragiri.
The Chinese Government has allegedly imprisoned the Panchem Lama recognised by the Tibetan spiritual leader Dalai Lama and have installed a rival Lama in his place.
Recently (on April 13) in the Hangzhou province of China, an 11th Panchen Lama, anointed by China's atheist Communists took centre stage at the World Buddhist Forum and defended China's record on religion.
The Dalai Lama's nominee is believed to have been under house arrest since 1995, when he was six years old. International human rights watchdogs call him the world's youngest political prisoner.
In 1950, the Chinese troops marched into Tibet, and Dalai Lama along with his followers fled to India nine years later after an abortive uprising against the communist rule.
The Tibetan refugees are now settled in different parts of India with their spiritual leader Dalai Lama establishing his headquarters in Dharamsala situated in Himachal Pradesh.