China's tourist can't visit Bihar
TIMES NEWS NETWORK, April 25, 2006
PATNA, India -- Citizens of China would be disappointed to know that a Boeing-747 aircraft cannot land in Patna. According to China's ambassador to India Sun Yuxi, quite a few rich Chinese would like to visit Bihar's Buddhist spots provided they are able to bring in a big plane at least up to Patna.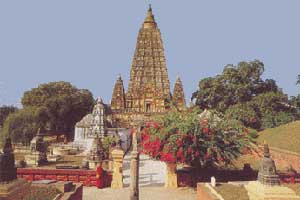 << Bihar, home to the holy Maha Bodhi temple located in Bodh Gaya, where the Buddha gained supreme Enlightenment
Yuxi, who was in Bihar, met state tourism minister Nand Kishore Yadav on Monday evening and inquired about the facilities at the Patna airport.
Yuxi said, "Several Chinese leaders, businessmen and well-to-do people would like to visit your state, Bihar, but they won't have much time to spend commuting on roads. Is is possible to land a big plane, something like a Boeing-747, in Patna?"
Yadav asked his staff to find out and was soon told it was not possible. The length of runway at the Patna airport is about 6,770 feet whereas a Boeing-747 would need at least 8,000 feet of runway to land and take off.
Nevertheless Yuxi spoke of better cooperation between the two countries which would increase the tourist flow from China to Bihar.
However, he expressed his disappointment over the lack of adequate infrastructural facilities, specially in Gaya and Nalanda. "People are very friendly and Bihar is a very nice place. But the roads need to be better," Yuxi said. Yadav nodded.
The Chinese envoy said his team is currently engaged in preparing a documentary that would be shown back home to give prospective tourists a better idea of Bihar.
He sought the help of Yadav to allow the filming of some rare statues in the Patna Museum.Yuxi hinted at the possibility of attracting Chinese investment in Bihar.
Although he did not speak in detail, he gave a feeler that "China and India could come together to improve infrastructure in Bihar and accelerate development".
He was shown a documentary film on the Buddha Circuit which also traced Buddhist links between the two countries.
While Yuxi presented Yadav a glass plate with China's traditional symbol of the dragon, Yadav in return gifted him a Buddha statue and a Madhubani scarf.
Later speaking to reporters, Yadav said, "There was no direct mention of any investment. We have spoken about better cooperation and the possibility of increasing the flow of tourists from China."
As of now, few tourists from China visit the Buddhist spots in Bihar. Among foreign tourists, those from Japan and Thailand top the list.