Dalai Lama's Varanasi connection
by Aarti Aggarwal, TIMES NEWS NETWORK, June 1, 2006
VARANASI, India -- What do the Dalai Lama's ornate robes, kimkhabs used in Hollywood costumes, the rich brocades adorning Tibetan monastries in India and abroad and exquisite dragon fabrics available across Buddhist centres have in common? Varanansi. Amazing but true. The source of all this fabric is temple city of Benaras.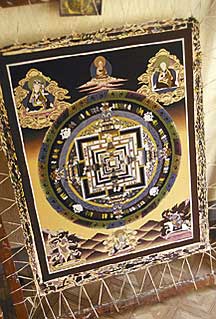 << Handloom fabric for creating thankas
Badruddin Ansari is a dealer in Tibetan brocades and has the unique distinction of being the only dealer all over India supplying handloom fabric for thankas , the cloth used for dresses adorned during religious practices and also the fabric required for the thrones. "The clothes worn by Dalai Lama too are also supplied by us," he tells proudly.
He gets orders to create fabric with exact specifications right from the width, colours and motifs. A number of these designs come from the antiques in the Potala Palace at Lhasa in Tibet.
For instance, the thankas hung in the monasteries are eight to 10 feet long with the width ranging between 24 inches to 29 inches. Only three colours namely blue, red and yellow are used with intricate patterns.
The fabric used for throne has special squares of 29 inches by 29 inches with meenakari work. Here usage of five colours is allowed which includes green and white along with three common colours of thankas he added.
Though the maroon or saffron coloured cloth is normally worn by Buddhists, they also adorn themselves in specific clothes for their religious ceremonies.
Different kinds of patterns are weaved on fabrics to be used for this purpose. In fire dance, a special kind of dress with dragon work is worn. It is exported to European countries too.
In old times it was sent to China via Kalimpong (Sikkim) on mules, Badruddin remembers nostalgically.
How the tables have turned. Today even though China is producing Tibetan brocades, Dalai Lama and his followers do not like to wear clothes made in China because of political reasons.
Hence Badruddin is witnessing an increase in demand for the handloom fabric with zari work, known as kimkhabs. He already has 100 looms catering to the Tibetan requirements and now plans to expand even further.
"We weave these fabrics with the ancestral art inherited through generations.
These brocades require extremely intricate work and depending on orders are even weaved in real gold. Only a few immensely talented craftsmen weave this kind of cloth. Hence we pay double wages as compared to a craftsman weaving a saree," he added.
A traditional family of weavers, their great grandfather was awarded by British government in 1886 for the supply of kimkhabs to Tibet and China during an exhibition at London.
Their family continued the production of Tibetan kimkhabs even during the turmoil in Tibet.
During these tumultuous times, Badruddin's father started the production of sarees along with their ancestral work.
History repeated itself exactly 100 years later when their family won the national award for sarees in the Year of Handloom, 1986. Tibetan brocades however remain their first priority.
A decade ago they exported their Tibetan brocade fabric for two Hollywood movies shot in Ethiopia. These included Seven Days In Tibet which dealt with Dalai Lama's exile to India and the second named Kundan which featured the religious practices of the Buddhists.
Recently, Badruddin participated in 17th Home Furnishing Fair at Japan and was amazed with the response in Japan to the Tibetan brocades. Japanese people touched the fabric created for the throne with extreme respect while paying obeisance to it.