Modernity Tips Balance in a Remote Corner of Kashmir
By AMY WALDMAN, New York Times, November 25, 2004
LEH, Ladakh (Kashmir, India) -- The young man wore Western clothes, but he paused as he passed the prayer wheel. Then, without self-consciousness, he mounted the steps and spun, circumambulating the wheel in search of good fortune.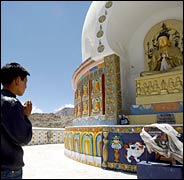 "I feel great because I'm doing something for my God," he said afterward.

The young man, Tsewang Tamchos, 16, is a product of Ladakh, a remote repository of Tibetan Buddhism on a high-altitude Himalayan plateau in the northern areas of Kashmir, a disputed state. But he is a product of a wider world, too: his school in Delhi, the music of Eminem, the ambitions of an upwardly mobile family whose material fortunes improve with each generation.
As in many cultures, the people of Ladakh, a sparsely populated region, live in the fold between tradition and modernity. But few places have provided as concentrated a laboratory for how modernization is tipping that balance.
In less than four decades, Ladakh has gone from being closed to the outside world to reflecting it. With each generation, the ties to the land, to the past, weaken, as options and opportunities widen. The culture and economy have moved from community-oriented to competitive, from living off the land to working for cash and spending it.
For generations, Ladakh, a barren, moonlike landscape punctuated by monasteries, was almost cut off from the outside world. No decent roads crossed the mountains. It took 16 days to get to Srinagar, the state's summer capital, across passes that soar above 13,000 feet. Its people developed a way of life attuned to the land, and in tune with one another. Nothing was wasted, wrote Helena Norberg-Hodge in her book, "Ancient Futures: Learning from Ladakh." Human waste fertilized fields; worn-out clothes patched irrigation channels.
But two milestones altered life here. In 1962, India and China, which Ladakh borders, fought a war. That brought in the Indian military - the first real outsiders - and infrastructure, merchants and more. Today, bases dot the land, and the army is the area's largest employer.
In 1974, Ladakh opened to foreign tourists for the first time, and they quickly became a pillar of the economy.
The influx of outsiders was not all bad, said Sonam Dawa, who runs the Ladakh Ecological Development Group. Ladakhis, with help from outsiders like Ms. Norberg-Hodge, a linguist, prevented Ladakh from becoming another Nepal, spoiled by an excess of hippies and drugs. At first ashamed by their backwardness, many Ladakhis came to believe that, if foreigners saw such value in their culture, language and dress, they should, too.
But the influence of outsiders has gradually leeched into Ladakh's way of life. Before, Mr. Dawa noted, the economy was not based on money. Rich and poor alike needed each other for the harvest. Now rich men can hire laborers from Nepal or poorer Indian states, and many do.
"There is a lot of competition now," he said. "Everyone is trying to have a car."
The notion, and the novelty, of competition surfaces in conversations in the car-choked streets of Leh or nearby villages.
At 35, Tashi Palzes is old enough to remember a time with no competition in her village, Phyang Puluhu, which sits on several steep terraces in the valley behind the Phyang monastery.
Today, she, like everyone, is racing against her neighbors, and sees herself as winning. She has not one, but two televisions - the second one in color - and a satellite dish on her roof. She wears not the handspun traditional dress of a Ladakhi woman but a secondhand Gap sweatshirt, bought at the Leh bazaar.
Earlier, she said, villagers did not have much and did not need much. Now they have more needs - better clothes, better education, more televisions - and thus more work. Life is simultaneously more comfortable and more difficult.
Even the Buddhist monasteries of Ladakh, which is known as Little Tibet, are grappling with modernity.
The Rizong - literally "mountain haven" - monastery, founded in 1833, sits in a narrow mountain fold with a view of the snowy Himalayas in the distance. The number of students has diminished as the economy has improved, said Chotak Lama, one of the monks, because fewer poor families need the monastery for their children. The monastic life was built around isolation, but even monks want to be connected these days. It was once a 90-minute walk from the main road to Rizong, and monks regularly made the journey with supplies on their backs. But last year, at the monks' behest, the government built a smooth road that climbs up through the mountains.
In the Leh home of Tsewang Tamchos, too, each generation brings substantial change. His grandparents live in the Nubra Valley, about 75 miles away.
They do not read or write; they farm. They grew up drinking unlimited quantities of butter tea, the salty staple of Ladakhi life.
His father, Tsering Tundup, 44, is a government forester. He says butter tea is bad for his blood pressure, and limits his intake to two cups a day. The house he has built his family in Leh has elements of tradition - the Buddhist prayer room, the wooden ceiling in the kitchen - but in most respects is modern.
His children study out of the state, Tsewang in Delhi and his 19-year-old sister, Tsering, in Chandigarh.
Their father cooks for them the lentils and rice of north India, rather than the traditional foods of Ladakh, because that is what they now prefer. They want to eat instant Maggi noodles, not the traditional thick soup, thapa.
Tsewang's parents want him to be an engineer, and he does as well, but Ladakh has few opportunities for engineers. He would like to live here, but does not know if he will.
He does plan to marry a Ladakhi woman. "I don't want to change my culture," he said. "That's the only thing I have."