Tibetan nuns await 'precious moment' with the Dalai Lama
AFP, June 7, 2006
DHARAMSALA, India -- Two Buddhist nuns eagerly awaited an audience with the Dalai Lama yesterday after a dramatic escape into exile from Tibet where they suffered years of imprisonment at the hands of the Chinese.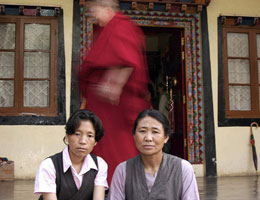 << 'Singing nuns' Lhundrub Zangmo (right) and Rigzin Choekyi sit at the Ganden Choeling Nunnery in Dharamsala
"It will be a precious moment," said Rigzin Choekyi, sitting alongside companion Lhundrub Zangmo in the Tibetan Reception Centre in Dharamsala which takes immediate care of newly arrived Tibetan refugees.
"We won't be able to control our tears," the weary-looking nun said.
The two began their dramatic escape into exile from Tibet about two weeks ago, first travelling by road from the Tibetan capital Lhasa and then crossing the rugged Himalayan divide into Nepal on foot.
Rigzin, 37, said she was carried over the mountains on the back of one of her Tibetan guides because she was too ill to cope herself on the arduous journey.
"We trekked two nights until we reached the Nepal border," she said.
Once over the Himalayas, they made their way to Kathmandu and then on to the northern India hill station of Dharamsala, where they arrived exhausted on Saturday.
The two Buddhist nuns were among 14 who in 1993 secretly recorded songs on a tape about the Dalai Lama, Tibet's exiled spiritual leader, while serving sentences in notorious Drapchi prison on the outskirts of Lhasa.
The pair were detained in August 1990 for their roles in protests, but their sentences were extended by five years when it was discovered the tape recordings had been smuggled out of prison to the West.
Beijing, which claims the Dalai Lama is trying to split Tibet from China, branded the songs counter-revolutionary propaganda that incited independence.
Rigzin eventually served 12 years in the prison and Lhundrub nine.
Lhundrub, also in her 30s, was released in March 1999 while Rigzin was eventually freed in September 2002.
They said they had no regrets and were always "prepared to face the consequences" to further the Tibetan cause.
"Of course it was dangerous to do anything related with the Tibetan cause or His Holiness in the prison," said Rigzin.
"We were in the prison for our freedom and our rights and because our leader is in exile and we wanted him back in Tibet," she said.
Lhundrub said that after her release she had returned to her family to help on their farm.
"I wanted to go into exile immediately after my release, but my family insisted that I wait till I recover my health," she said.
Rigzin said she was in hospital in Lhasa for a year after her release before secretly helping out at a Lhasa monastery to make a living.
"It was hard to get a job because nobody would risk reprisals by giving jobs to people who were branded separatists by the Chinese authorities.
"The Chinese authorities would always closely monitor our daily life," she said. "They would come to me regularly and ask many questions."
The two said they are very happy to have reached Dharamsala and are expecting soon to have an audience with the Dalai Lama, who is due back in the hill station from a foreign tour on June 12.
"Our immediate priority is to recover our health," said Rigzin. "(Then) we will continue to work for the freedom of our people.
"We would like to tell the international community about the repression that is taking place in Tibet and the suffering of the Tibetan political prisoners," she said.
Tibet has been ruled by China since its troops "liberated" the region in 1950. The Dalai Lama fled to India in 1959 as the Tibetan uprising failed and established his government-in-exile in Dharamsala. – AFP