Sikkim's Buddhists meditate on waning influence
By Simon Denyer, Reuters, June 11, 2006
GANGTOK, India -- A group of shaven-headed boys dressed in maroon robes stand nervously under a tree clutching Buddhist texts, waiting their turn to show their mastery of the Tibetan scriptures to a stern-looking monk.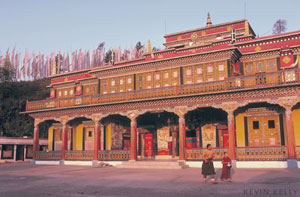 << A Buddhist Monastery in Gangtok, Sikkim
A young girl in grey uniform visits the monastery on her way to school and bows to the wrinkled chief lama, sitting on a bench in the morning sun in an ornate embroidered jacket.
On the face of it, Buddhism is alive and well in Sikkim, high in the Himalayas between Tibet, Bhutan and Nepal, a former Buddhist kingdom which merged with India only in 1975.
But behind these peaceful scenes, the thick walls of Enchey monastery have deep cracks running across their colourful murals.
The monastery, on a hilltop in the heart of Sikkim's capital Gangtok, says it does not have the money to repair the damage caused by an earthquake four months ago, and is still waiting for government help.
Many monks in Sikkim say the cracks are symbolic of a deeper malaise. The Buddhist religion has been marginalized in Sikkim, the mainly Buddhist Bhutia and Lepcha tribes outnumbered and outmanoeuvred by the majority ethnic Nepali Hindus, they say.
"The peaceful way of living is slowly and gradually disappearing," said Yapo S. Yongda, the chief lama of Pemayangtse monastery and the head of the Assembly of Monasteries of Sikkim.
Legacy of British Rule
To counterbalance the power of Sikkim's Bhutia aristocracy, British colonial rulers encouraged ethnic Nepalis to settle in the state in the nineteenth century. By the start of the 20th, the Bhutias and Lepchas were a minority in their "own land".
Eventually, inevitably, the impoverished Nepali majority rose up against the monarchy and the landowning monasteries -- a revolt that culminated in the king being deposed, democracy being established and India being invited to take over in 1975.
A few monasteries and shrines were ransacked, until the Indian army stepped in to protect them. Today, Buddhists have complete freedom to practise their religion but still they feel the pinch of changing priorities.
Old and historic monasteries, especially in remote parts of the state, are falling to pieces, some with scarcely any monks let alone money to look after them, monks say.
The state's ecclesiastical department, meant to help in upkeep, has scarcely enough money to pay its own officials, Yongda says. The state's few Buddhist schools are woefully under-funded, their teachers paid just a fraction of the salary of a state school teacher, he says.
"The government gives lots of money for materialistic development, but equally the spiritual path should be taken care of, if you want to keep Sikkim as a peaceful state, an example to others," said the brown-robed monk.
The influx of outsiders has once again gathered pace since 1975. At the same time, Christian missionaries, with enough money to build schools and offer social welfare programmes, are wooing many Lepchas away from the Buddhist faith.
"Our people are very simple and can be easily taken away," said Topden Lama at the former royal monastery of Tsukla Khang, dominating a Gangtok hilltop with a magnificent view of the snow-capped Mount Khangchendzonga. "Even some of my family have converted because of money."
Topden and others say the problems Buddhism faces here are not comparable to the repression unleashed under Chinese rule in neighbouring Tibet. Nevertheless many monks feel their culture of non-violence has allowed others to take advantage of them.
Awakening Political Identity
These days there are signs of an awakening Buddhist political identity in Sikkim, and an intertwined ethnic identity mostly expressed behind closed doors but publicly championed by the Sikkim Bhutia-Lepcha Apex Committee (SIBLAC).
"We are becoming like refugees in our own land," said SIBLAC's head Tseten Tashi Bhutia. "And we can't raise our voice. If we do we are termed anti-national and communal."
Nonsense, says the government, which dismisses SIBLAC as disgruntled opposition politicians and "vested interests".
There are reserved seats in the state assembly for Bhutias and Lepchas, reserved jobs in government, argued B.B. Gooroong, adviser to the state's chief minister.
"We could have told the government of India, democracy has come, treat them equally," he said. "But we have shown magnanimity, and no Bhutia-Lepcha can deny that fact."
At the Namgyal Institute of Tibetology, scholars pour over one of the largest collections of Buddhist literature in the world, much of it saved from Tibet after China's 1950 invasion.
Director Tashi Densapa says Buddhism may have taken a back seat to the needs of development, roads, electricity, water and prosperity -- but some young people are showing an interest.
Nor have lamas like Yongda given up. In 1980, he set up a school to teach modern subjects as well as an hour of "non-violence" every day.
Yongda complains that the government is hardly helping, paying meagre salaries to just a few of his teachers. At a similar, new school in Gangtok, monks like Sonam Palzor Dezongpa say they would rather do without the state's money.
Most of the children who study at Sikkim's monastic schools come from poor families, while rich Buddhists send their children to Christian schools in places like the hill resort town of Darjeeling. Dezongpa says that should change.
"We have to compete with the world market," he says, sitting cross-legged on a bed with a cat sunning itself at his side. "Otherwise parents won't send their children."