India invites tourists to 'Walk with the Buddha'
By Elizabeth Dalziel, AP, June 12, 2006
NEW DELHI, India -- Looking to cash in on those seeking spiritual enlightenment, Indian tourism authorities plan to highlight the country's rich Buddhist heritage to attract tourists in the run-up to 2,550th anniversary of Buddha's birth in November.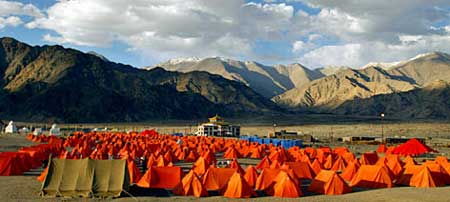 Western travelers camp among a sea of tents outside
of a monastery in Thiksay, India
Under the slogan, "Come to India, Walk with the Buddha," the campaign aims to attract tourists who would travel to Buddhist heritage sites across India, an official said.
The emphasis will be on "spiritual" tourism that is "aimed at uplifting the soul and finding peace by following in the footsteps of the Buddha," said a top Indian tourism official, Amitabh Kant.
Buddhism was founded in India at around 500 B.C. by Buddha. He was born in southwestern Nepal and spent a large part of his life in India, and a number of sites associated with him are located in north and eastern India.
Despite its proximity to countries with sizable Buddhist populations, such as Japan and Thailand, India has not been able to attract large numbers of Buddhist tourists — a fact widely attributed here to bad airline connections, potholed roads and inadequate hotels.
However, Indian tourism authorities hope to change the image with a $1 billion plan to upgrade roads, highways and hotels around 22 Buddhist sites, particularly in the holy cities of Bodh Gaya, Rajgir and Nalanda in eastern India, Kant said.
Bodh Gaya is home to Buddhism's most sacred shrine, the Mahabodhi temple, where Buddha is believed to have attained nirvana, or enlightenment, 2,500 years ago. The temple was declared a UNESCO World Heritage site in 2002.
The celebrations will end with an international seminar in November in the northern city of Kushinagar.
In other tourism news from India, the Times of India reported that authorities in New Delhi are planning a new amusement park with a giant Ferris wheel.
The slow-moving wheel, similar to the landmark London Eye in Britain's capital, will provide breathtaking bird's-eye views of New Delhi, which from the air looks surprisingly green, dotted with scores of historic tombs and forts.
The wheel — 492 feet in diameter — would be installed at the capital's Millennium Park, a new park going up along the Yamuna River in time for the 2010 Commonwealth Games in New Delhi.
Another proposal in the works would create a wildlife park near New Delhi, the Hindustan Times reported.
Nighttime safaris would be offered at the proposed 400-acre site near a forest reserve in Murshidpur village, 18 miles from Delhi in the Greater Noida suburb. There are also plans to include motels, food courts, shops and restaurants.