Famed Silk Road to Tibet reopens for business
by Amrit Dhillon, The Age, June 27, 2006
New Delhi, India -- When a trade in yak tails, China clay, goatskin, and molasses resumes early next month high in the Himalayas on the Indo-Chinese border, it will signal the revival of an ancient piece of history — the famed Silk Road that linked China and India for a thousand years.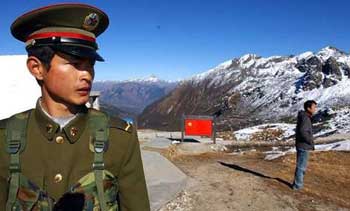 << A passage to India: a Chinese soldier at the Nathu La Pass between China and India that was once part of the Silk Road and has been closed for 44 years.
Photo: AP
Ever since China invaded an astonished and unprepared India in 1962, the Nathu La Pass, in the province of Sikkim, has been heavily fortified on both sides.
The soldiers, bunkers and barbed wire are still there but, these days, bulldozers are flattening the hilly ground on the Indian side. It has to be levelled to align with the spanking new highway that the Chinese have built on their side, in Tibet, south China.
The road on the Indian side from Nathu La to the Sikkim capital of Gantok is too narrow and badly maintained to allow heavy traffic.
Some prefabricated buildings have been erected for customs, banking, and immigration purposes. A warehouse has been erected for traders to exchange goods.
As trade goes, this is not headline-making stuff. But the opening of the Nathu La Pass is hugely symbolic. The mountain passes between Sikkim and Tibet were once part of the Silk Road.
And it signals a further rapprochement in relations between the two Asian giants.
The opening of the Nathu La Pass, located on the roof of the world at an altitude of 4310 metres, became possible after China indicated to New Delhi in 2003 that it was ready to drop its claim to Sikkim, a former Buddhist kingdom that had merged with India in 1975.
For China too, the opening of its border in Tibet fits in with its policy of improving Tibet's connections with the rest of the country.
"It's very early days. Both sides are still testing the waters," said an official with AusAID, the Australian Government's overseas aid program, who has worked in Sikkim.
What excites local people much more than the trade in yak hair is the prospect, eventually, of a tourist boom.
Sikkim depends on tourism. It is a tiny speck on the map, tucked away in the far north-east of the Indian subcontinent. It measures about 70 by 110 kilometres. But it offers some extraordinary landscapes.
Its terrain rises from just above sea level to the icebound summit of Kanchenjunga, the third highest peak in the world.
Local officials hope the province will become the epicentre of an international Buddhist pilgrimage circuit, which the Indian Tourism Ministry is currently selling to foreigners.