Limitations on Shugden Should Sustain: His Holiness
TibetNet, June 30, 2006
Dharamshala, India -- In addition to promoting Buddhism in general and, in particular, overcoming the challenges before the Gaden tradition of (Tibetan) Buddhism, the limitations put on the worship of Dorjee Shugden, by the Great 5th Dalai Lama, (former) Gaden Tripa Ngawang Chokden and many other great lamas down the ages must be sustained conclusively, His Holiness the Dalai Lama has said, in his message to a religious conclave of the heads and representatives from all the great monastic seats, here at the Norbulingka today.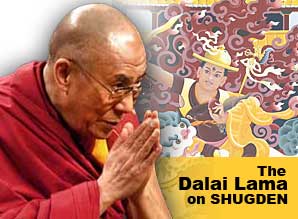 Speaking to over 40 lamas and 20 lay observers, the Kalon for Religion and Culture, Lobsang Nyima, spoke candidly on the need to demonstrate more overtly one's support for limiting the worship of Shugden, adding that "the prevailing restrain or expediency on this matter would be highly detrimental."
His Holiness has been advising the Tibetan people against worshipping Shugden, saying that it fuels sectarianism among the four different traditions of (Tibetan) Buddhism and that the continued worship of Shugden contributes to the degeneration of Buddhism, to spirit worship. His Holiness therefore urged those who worship Shugden, not to seek teachings from him, as this would violate the spiritual bond between the teacher and his disciples.
Not withstanding the ultimatums it continues to receive every now and then, the exile Tibetan administration remains resolute in discouraging the worship of Shugden, added Kalon Lobsang Nyima, who was representing the exile Tibetan administration at today's conclave on "the preservation of the sacred lineages of empowerments and oral transmission of the Geden tradition", organised by the Geden Phacho Bucho Project.
The project, under the supervision of the UK-based, Lelung Dharma Trust, aims to secure the great legacy of Je Tsong Khapa and his teachings and lineages "for at least the next five decades" by compiling a working reference catalogue to serve as a mastery copy of all the lineages belonging to the Geden tradition; determining a programme and process of oral transmissions; and facilitating the oral transmission of all the known Geden lineages to the most appropriate students.
Kalon Tripa prof. Samdhong Rinpoche, who attended the conclave in his individual capacity, said that when the chain of oral transmissions (that can be traced back to the Buddha) is fractured, it becomes the greatest cause for the eventual extinction of Buddhism. Lauding the pioneering initiatives of His Eminence Lelung Rinpoche, "on whom His Holiness has placed high hopes", Kalon Tripa said that his administration will continue to provide him its moral support--the easiest of all supports, he added in jest.