Monks question 'outsiders' control over Bodh Gaya temple
Indo-Asian News Service, July 30, 2006
Patna, India -- Buddhist monks have questioned the non-Buddhist control over the management of the 1,500-year-old Mahabodhi temple in Bihar's Bodh Gaya town. The monks have also accused non-Buddhists of chopping off a branch of the holy Mahabodhi tree and selling its leaves to an international mafia.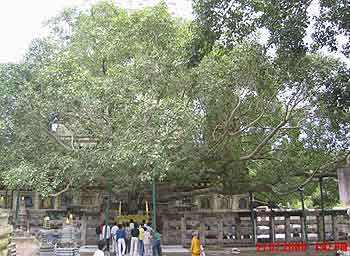 << The holy Bodhi Tree in Bodh Gaya, India
They are now planning to launch fresh protests and want the central government to hand over to them the management of one of the holiest shrines of Buddhism by amending the Mahabodhi Temple Management Act.
Disclosing this, Bhante Anand, president of the Bodh Gaya Mahabodhi Vihar All India Action Committee, said it was a conspiracy that the management of temple was under the control of non-Buddhists.
'We fail to understand why non-Buddhists have the control over the holiest shrine of Buddhists. We have decided to take the issue differently by lobbying, mobilising and protesting for Buddhist control over the management,' Anand told IANS here before the committee's two-day national meet began here Sunday.
The meet is being attended by Buddhist monks from across the country to discuss the issue.
'We also demand immediate dissolution of the temple management committee,' he said.
'If the management of temples, churches, mosques and gurdwaras are not the under control of other sects, then why not so in case of the Mahabodhi temple.'
Anand, who is also the president of the Akhil Bharatiya Bhikkhu Mahasangh (ABBM), an influential body of Buddhist monks, said that a delegation would meet Bihar Chief Minister Nitish Kumar Monday to hand over a memorandum.
'If no action is taken by Aug 31, we will take up the matter with Prime Minister Manmohan Singh.'
Bhante said Buddhists had been given little role in managing the affairs of the temple since 1949.
He directly held non-Buddhist members of the temple management committee responsible for chopping the branch of the tree. It was reported early this month that some unknown people had chopped off the branch.
Anand said he suspected the involvement of an international mafia in the crime, adding there was a high demand in Japan for the leaves of the tree, pieces of its wood and the soil.