Trains to run through Buddhist circuit
The Hindu, Sept 15, 2006
New Delhi, India -- Ever fancied visiting Buddhist religious places? Is travelling across India, visiting tourist and cultural destinations, one of your long-cherished dreams? If yes, the Indian Railways Catering and Tourism Corporation has tailor-made travel programmes.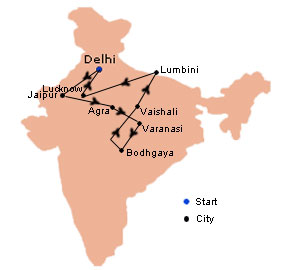 The latest from the corporation is the Buddhism circuit. The train will run from Thiruvananthapuram to major Buddhist centres and return. The circuit is likely to be launched in October, and negotiations are on with tour operators for finalising the itinerary, says K.P. Damodaran, Kochi regional manager of the corporation.
Though tourists from Sri Lanka are the target, the corporation expects others also to join. The Bharat Darshan programme is one of the major travel initiatives of the corporation. The first programme covered Agra, Delhi, Amritsar, Chandigarh, Kulu, Manali and Allahabad in 15 days. The fare of Rs. 8,000 met all expenses, such as hotel fare and sightseeing, food and related costs.
The tourists are put up in hotels at night, and local partners of the corporation take care of travel and other arrangements. Special second-class sleeper trains are run. The fare now depends on the number of passengers for each trip, and once the programme stabilises, it will be cut, Mr. Damodaran says.
At present, a private tour operator is running the programme for the corporation. However, the latter plans to run the Buddhism circuit on its own.
The next Bharat Darshan train will leave on September 22 and end its journey on October 3. The tour is of Agra, Chandigarh, Amritsar and New Delhi, and the fare is Rs. 6,818. Those keen on visiting Shimla will have to pay Rs. 1,000 more.
Short-duration travel programmes are being finalised for the Kerala region, and expressions of interest have been invited from local travel and tour operators, Mr. Damodaran says.
Details may be had on www.irctc.com, www.railtour.com or ph: 044 283 63726, 0484 231 7375/551 0152.