100,000 to Become Buddhists in Hydrabad on 14th October
by Vishvapani, http://www.ambedkar2006.blogspot.com/, The Buddhist Channel, Oct 9, 2006
Hydrabad , India -- A hundred thousand people will become Buddhists in Hydrabad on 14th October in a huge meeting in the East Indian state of Andra Preadesh, that will include up to 400,000 people. The chief organizer is KSR Murthy, a former member of India's parliament, the Lok Sabha.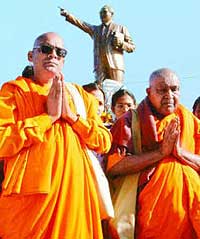 << Dr. Ambedkar's call for emancipation from the oppressive caste system still resonates in the minds of his new followers.
The event will take place at Dr. Ambedkar Statue on the Tank Bund: the spiritual center for Hydrabad's Ambedkarites. Every year a very large gathering marks the anniversary of Dr Ambedkar's conversion on 14 October; this year Murthi expects 3-400,000 to attend with 100,000 converting for the first time. Many similar ceremonies will take place around India on the same date, but this will probably be the largest conversion ceremony. The wave of conversions will culminate in a much larger ceremony in Bombay on 16 December.
Presiding over the ceremony will be Ven. Hsing Yun President of the Buddha Light organization, which is based in Taiwan and has 120 centers around the world. The presence of a senior figure in Chinese Buddhism is a significant development for the conversion movement, which has mainly made connections with the Theravadin Buddhism of South East Asia and Sri Lanka. Ven.Hsing Yun will administer the Buddhist refuges in Chinese (the ceremony through which one becomes a Buddhist) and the Ven.Vinayarakkhitha will translate them into Telugu, the local language.
Murthy, who was born in a small village a day's journey from Hydrabad but has become a prominent spokesman for his community will be becoming a Buddhist himself on that day. He has prepared by studying works on Buddhism including Dr Ambedkar's book, 'The Buddha and Dhamma and taking up meditation. He comments:
'The dalits situation is still dismal. No political party is committed to making them equal partners in building modern India and though huge sums are said to devoted to their welfare, in reality the money is going down the drain. Untouchability continues to be practiced in the villages and even senior officers from our community encounter discrimination. 'Though we feel that conversion can't eradicate all of these problems we do believe that it can lead us to a better future in the form of Buddhist practice. I feel my whole life started to change when I first leant vipassana meditation and now that is my path of service to humanity.'