Plea for elimination of `destructive' emotions
PTI, Oct 9, 2006
New Delhi, India -- Exiled Tibetan leader the Dalai Lama on Sunday appealed to the followers of Buddhism to eliminate their "destructive emotions" by practising the teachings of Buddha.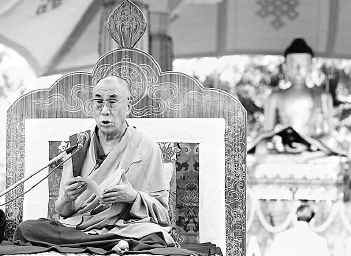 << TEACHINGS RELEVANT: Spiritual leader Dalai Lama addressing devotees at the international festival of Buddhist music and rituals to commemorate 2550th year of Mahaparinirvana of Sakyamuni Buddha at the Buddha Jayanti Park in New Delhi on Sunday. Pho to: R.V. Moorthy
Addressing a three-day festival of Buddhist music and rituals here, he said the teachings of Buddha have a lot of relevance in the present time, when the level of violence in society has gone up significantly.
"There has been a lot of development in science and technology. At the same time, the level of violence has increased because the destructive emotions are very active among the people. The teachings of Buddha have a lot of relevance now which can help to eliminate the destructive or negative emotions," he said. "Buddha means elimination of negatives. It means all positives potentials should develop in life," he said.
The Dalai Lama favoured on implementing the teaching of Buddha in everyday life. By leading "ethical" life, one can eliminate the negatives, he said.
He explained the stages and paths for achieving Buddhism.
"Correct livelihood and ethical life can help everybody to get rid of the destructive emotions," he felt. The festival is being organised by Tibet House in association with Ministry of Culture to commemorate the 2550th year of Mahanirvana of Buddha.