A hundred thousand Dalits gather in Maharashtra to burn anti-conversion laws
by Nirmala Carvalho, AsiaNews.it, October 11, 2006
"World Freedom of Conscience and Freedom of Religion Day" will be held on October 14 in Nagpur. People will be able to forsake India's caste system by making a written statement.
New Delhi, India -- More than 100,000 Indian Dalits or outcastes are meeting on Saturday in Nagpur, Maharashtra, to publicly burn copies of the anti-conversion laws adopted by some of India's states and express their support to anyone who wants to abandon the Indian caste system.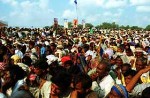 The event will also mark the 50th anniversary of the conversion from Hinduism to Buddhism of Baba Ambedkar, the charismatic "architect of the Indian Constitution" and first law minister of independent India.
The rally, called the "World Freedom of Conscience and Freedom of Religion Day", will be held at Kasturchand Park where, according to the chairman of the All India Confederation of Scheduled Castes/Scheduled Tribes Organisations, copies of the so-called anti-conversion laws will be symbolically burnt.
Udit Raj, who is fighting for Dalit equality, said that "the government of Gujarat has approved an anti-conversion law that describes Jainism and Buddhism as 'Hindu sects'. We are outraged by this ridiculous action."
"On the one hand, Hindu extremists have nothing better to do than accuse and harass Christians and Muslims for allegedly carrying out mass conversions; on the other, they are trying to include two great religions in their own. Where is freedom of conscience?" he asked.
The rally will also give people the opportunity to forsake the Indian caste system by making a written statement.
Christian, Muslim, Buddhist, Sikh, Jain and even progressive Hindu leaders are expected.
"We love our country," Joseph D'Souza, international president of the Dalit Freedom Network and chairman of the All India Christian Council, said. "India is the world's largest democracy and an amazing land of diversity. Yet our nation must recognise the evil of a system which doesn't allow people to express freedom of conscience."
At present, anti-conversion laws are in place in Orissa, Madhya Pradesh, Arunachal Pradesh, Chhattisgarh, Tamil Nadu, Gujarat, and Rajasthan.