Indian Premier to inaugurate Global Pagoda at Mumbai
The Buddhist Channel, Oct 28, 2006
Mumbai, India -- The Prime minister of India, Dr.Manmohan Singh will inaugurate the Global-Pagoda at Gorai Beach at Mumbai (Bombay) on October 29, 2006. The pagoda, said to have the largest dome structure in the world, is constructed by the International Vipassana Center based in Nashik, Maharashtra and founded by Buddhist scholar Acharya Satyanarayan Goenka.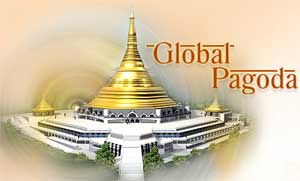 One of the key objective of the Grand Pagoda, as envisioned by Shri S.N.Goenka, is to preserve the Vipassana technique, also known as the way out of suffering and to store the relics of Buddha.
The most significant part of the pagoda is that it will be more than twice as large as the presently largest dome structure in the world, namely the Gol Gumbaz at Bijapur in India. The stones will be skillfully placed to form a load bearing dome structure without supporting pillars inside the hall.
Following the last instructions of the Enlightened One, the genuine Buddha relics will be enshrined at the centre of a large central hall in the pagoda where over 8,000 Vipassana students can sit and meditate together, getting advantage of the powerful vibrations emanating from the relics.
The Pagoda will have an informative gallery exhibiting the actual historical life of the Buddha, and the benefit of the practice of Vipassana derived during his lifetime. The pagoda will also serve as a Dhamma museum and centre of learning with facilities including a museum, libraries, multimedia presentations and seminar rooms. It is expected to be a top draw for academics and scholars from all around the world.
Another key intention is to express the Buddhist gratitude towards countless teachers who have preserved the teaching in its pristine purity, to Sayagyi U Ba Khin who was responsible for returning this pure Dhamma to India and the country of Myanmar (Burma) which kept alive the tradition for over 2000 years.
According to the official website, the main purpose for the Pagoda, however, is to give greater impact to the teachings of the Buddha by injecting fresh life and vitality with the introduction of Vipassana.
It will also make clear the true perspective of the Buddha as a great therapist (cikicchako), a physician (bhisako), a surgeon (sallakatto), a research scientist (ariya sacca gavesi pariyavesi). The aim is also to expose his teaching as the greatest practical science of self-psychotherapy that the world has ever acquired.
For details of the inauguration ceremony, please visit: http://www.globalpagoda.org/