Why Dalits embrace Buddhism
by Sumit Pande, CNN-IBN, November 6, 2006
New Delhi, India -- It's a figure that will show up perhaps in the next annual census and is bound to astound many. Fifty years after Dalit messiah and the father of Indian Constitution Dr B R Ambedkar embraced Buddhism, nearly two-and-a-half-milllion Dalits have followed suit in 2006 alone.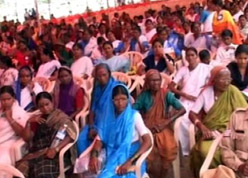 << CONVERSION COMMOTION: The upward trend of conversions has largely been restricted to south of Vindhyas.
The sudden resurgence of Buddhism in the country has made intellectuals and authorities sit up and take notice, and also wonder as to why of the all the religions, Dalits are looking for an identity in Buddhism.
Early October in Gulbarga district of north Karnataka, nearly one lakh (10,000) dalits assembled to commemorate the golden jubilee of Ambedkar's conversion and thousands are believed to have taken diksha .
"This is a reflection of their zeal to develop an alternative culture, an alternative religion and an alternative literature. They are moving towards the alternative of the existing system," says the Convenor of World Dignity Forum Ashok Bharti.
Dalit conversions to Buddhism from across the country has shot up considerably this year, especially in states like Maharashtra where, in two districts of Nagpur and Chandrapur alone, lakhs have converted so far.
In fact some institutes compiling this data say this figure has so far crossed two-million mark.
"A Dalit converting to Buddhism will continue to get reservations. If they convert to any other religion, they have to forfeit them," opines Assistant Professor at Delhi's Jamia Milia University Dr Chinna Rao.
But these conversions have largely been confined to the south of the Vindhyas. Even in states like Uttar Pradesh, which has witnessed resurgent dalit political movements in the last 10 years, there have not been many such instances.
So while BSP leader Kanshi Ram was cremated with Buddhist rituals recently, UP Chief Minister Mayawati has refrained from getting into the debate of conversions, at least for now.
Understandably so as the BSP is preparing for the upcoming UP Assembly elections, trying to explore new frontiers in the upper castes.
The Conversion Commotion
The ceremony coincided with the 50th anniversary of conversion to Buddhism of Bhimrao Ramji Ambedkar, who fought for the rights of the "untouchables", or those at the bottom of the caste hierarchy.
President of the Indian Justice Party Udit Raj, a Dalit who converted to Buddhism in 2001, was the main force behind the conversion move in Nagpur where there are no official curbs on religious conversions.
In several states including Gujarat and Madhya Pradesh, law has been introduced or strengthened to stop what it says are forced conversions, mainly by Christian missionaries.
Under the new laws anyone planning to leave the Hindu fold, the country's majority faith, must obtain certificates from officials and affidavits from courts, stating they were converting out of free will.
Source: Reuters